Episode 09: Legacy of the "Hinge" Years: 1990 to Today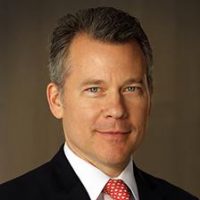 President of AGI
Jeffrey Rathke is the President of the American Institute for Contemporary German Studies at the Johns Hopkins University in Washington, DC.
Prior to joining AICGS, Jeff was a senior fellow and deputy director of the Europe Program at CSIS, where his work focused on transatlantic relations and U.S. security and defense policy. Jeff joined CSIS in 2015 from the State Department, after a 24-year career as a Foreign Service Officer, dedicated primarily to U.S. relations with Europe. He was director of the State Department Press Office from 2014 to 2015, briefing the State Department press corps and managing the Department's engagement with U.S. print and electronic media. Jeff led the political section of the U.S. Embassy in Kuala Lumpur from 2011 to 2014. Prior to that, he was deputy chief of staff to the NATO Secretary General in Brussels. He also served in Berlin as minister-counselor for political affairs (2006–2009), his second tour of duty in Germany. His Washington assignments have included deputy director of the Office of European Security and Political Affairs and duty officer in the White House Situation Room and State Department Operations Center.
Mr. Rathke was a Weinberg Fellow at Princeton University (2003–2004), winning the Master's in Public Policy Prize. He also served at U.S. Embassies in Dublin, Moscow, and Riga, which he helped open after the collapse of the Soviet Union. Mr. Rathke has been awarded national honors by Estonia, Latvia, and Lithuania, as well as several State Department awards. He holds an M.P.P. degree from Princeton University and B.A. and B.S. degrees from Cornell University. He speaks German, Russian, and Latvian.
__
Johns Hopkins School for Advanced International Studies
Kristina Spohr was the Helmut Schmidt Distinguished Professor at Johns Hopkins' School of Advanced International Studies, at the Henry Kissinger Center for Global Affairs (2018-2020), and is now a Senior Fellow at the Henry A. Kissinger Center for Global Affairs at SAIS-Johns Hopkins (2020-21). She is a specialist in the International History of Germany since 1945 and interested in the theory and practice of Contemporary History. She is now researching and writing on the global exit from the Cold War 1989-1992 - with the financial support of The Leverhulme Trust.
She is author of The Global Chancellor: Helmut Schmidt and the Reshaping of the International Order (Oxford University Press, 2016) and its extended German edition Helmut Schmidt: Der Weltkanzler (Theiss, 2016) as well as lead-author of a co-edited volume Transcending the Cold War: Summits, Statecraft, and the Dissolution of Bipolarity in Europe, 1970-1990 (Oxford University Press, 2016).
Her previous books include Germany and the Baltic problem after the Cold War: The Development of a New Ostpolitik, 1989-2000 (London: Routledge, 2004; paperback 2013); Building Sustainable and Effective Capabilities: A Systemic Comparison of Professional and Conscript Forces (IOS Press, 2004 - as editor and contributor); Journal of Contemporary History Special Issue: At the Crossroads of Past and Present — 'Contemporary' History and the Historical Discipline (London: Sage – vol. 46, 3 (2011 - as co-editor and contributor).
---
Divided Germany was a microcosm of the standoff between West and East, and the Berlin Wall was the iconic symbol of the Iron Curtain (listen to Episode 2 with Mary Sarotte for more on this), but the division of Europe went deeper, and its effects are visible today. This episode of The Zeitgeist considers the successes and failures in the post-Cold War construction of a new European political and economic order, in which Germany played a central role.
As changes rippled through Europe in the late 1980s and early 1990s, citizens in Soviet-bloc eastern Europe were motivated by two things: popular discontent with the mismanagement and corruption in their calcified communist structures, and national aspirations that had been suppressed through coercion and, at times, bloodshed for four decades since the end of the Second World War. From the Baltic to the Adriatic to the Black Seas, decades of discontent boiled over, and disaffected people found their voice.
One result was the reunification of Germany. But to balance the concerns of France and other West European leaders, German chancellor Helmut Kohl agreed to an even closer European integration, in order to ensure that a unified Germany would not dominate Europe alone. Another result was persistent pressure from Central and Eastern European countries to join the West. To open paths to prosperity and to ensure their security, they sought to become members of the European Union and NATO. Both organizations during the 1990s established frameworks for reform and a process toward membership. Germany, again, was central to this change of the European political and economic landscape.
Russia was half-in, half-out of this new European framework. Increasingly connected economically with Europe, it was at first ambivalent and later antagonistic toward the EU, with its rules, democratic protections, and subordination to the rule of law. In security terms, Russia has been unwilling to be just another European country, aspiring instead to reestablish a zone of privileged interest over its neighbors, as the wars in Georgia and Ukraine remind us.
How did leaders at the time see the challenges they faced? Did they overlook the seeds of the difficulties we now confront, or were they invisible to the political decisionmakers at the time? In this episode of The Zeitgeist, Jeff Rathke talks with Dr. Kristina Spohr, a scholar of this period, and author of the forthcoming book "Post Wall, Post Square: Rebuilding the World after 1989."
Read more on the Fall of the Berlin Wall from AGI.
---
Host
Jeff Rathke, President, AGI
Guest
Kristina Spohr, Helmut Schmidt Distinguished Professor at Johns Hopkins' School of Advanced International Studies, at the Henry Kissinger Center for Global Affairs
---
Support for this episode is provided in part by the Steven Muller New Initiatives Fund.