Episode 75: What Germany's Solution to its Tank Dilemma Tells Us about the Zeitenwende?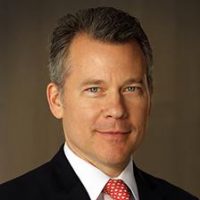 President of AGI
Jeffrey Rathke is the President of the American Institute for Contemporary German Studies at the Johns Hopkins University in Washington, DC.
Prior to joining AICGS, Jeff was a senior fellow and deputy director of the Europe Program at CSIS, where his work focused on transatlantic relations and U.S. security and defense policy. Jeff joined CSIS in 2015 from the State Department, after a 24-year career as a Foreign Service Officer, dedicated primarily to U.S. relations with Europe. He was director of the State Department Press Office from 2014 to 2015, briefing the State Department press corps and managing the Department's engagement with U.S. print and electronic media. Jeff led the political section of the U.S. Embassy in Kuala Lumpur from 2011 to 2014. Prior to that, he was deputy chief of staff to the NATO Secretary General in Brussels. He also served in Berlin as minister-counselor for political affairs (2006–2009), his second tour of duty in Germany. His Washington assignments have included deputy director of the Office of European Security and Political Affairs and duty officer in the White House Situation Room and State Department Operations Center.
Mr. Rathke was a Weinberg Fellow at Princeton University (2003–2004), winning the Master's in Public Policy Prize. He also served at U.S. Embassies in Dublin, Moscow, and Riga, which he helped open after the collapse of the Soviet Union. Mr. Rathke has been awarded national honors by Estonia, Latvia, and Lithuania, as well as several State Department awards. He holds an M.P.P. degree from Princeton University and B.A. and B.S. degrees from Cornell University. He speaks German, Russian, and Latvian.
__
Council on Foreign Relations
Liana Fix is a fellow for Europe at the Council on Foreign Relations (CFR). She is a historian and political scientist, with expertise in German and European foreign and security policy, European security, transatlantic relations, Russia, and Eastern Europe. She is also the author of A New German Power? Germany's Role in European Russia Policy (Palgrave Macmillan, 2021). Dr. Fix's work focuses on German domestic and foreign policy, the European Union, transatlantic relations, and Europe's relations with Russia and China.
Prior to joining CFR, Dr. Fix was program director for international affairs at Körber-Stiftung in Berlin. She was also a resident fellow at the German Marshall Fund in Washington, DC, and a DAAD/AICGS fellow at the American Institute for Contemporary German Studies. From 2018 to 2019, she was a fellow for global governance futures at the Robert Bosch Foundation Multilateral Dialogues. From 2014 to 2016, Dr. Fix was a doctoral fellow at the German Institute for International and Security Affairs and associate fellow at the German Council on Foreign Relations. From 2012 to 2013, Dr. Fix worked as a Mercator fellow for international affairs at the German Federal Foreign Office, the EU Delegation in Tbilisi, and the Carnegie Moscow Center.
Dr. Fix has contributed essays, policy papers, and articles to peer-reviewed journals including Foreign Affairs, Foreign Policy, and the Washington Quarterly, among others. She is also a frequent contributor to international and German-language media.
Dr. Fix received her MSc in theory and history of international relations from the London School of Economics and Political Science and her PhD in political science from the Justus Liebig University Giessen. She is a member of the European Leadership Network Younger Generation Leaders Network on Euro-Atlantic Security and of Women in International Security.
---
On this episode of the Zeitgeist, AGI President Jeff Rathke talks with Dr. Liana Fix, Fellow for Europe at the Council on Foreign Relations, to discuss ongoing challenges in Germany's foreign policy as Olaf Scholz pursues the Zeitenwende – the reorientation of Berlin's security agenda. Amidst intense public debates over the shipment of Leopard 2 main battle tanks to Ukraine, how does Chancellor Olaf Scholz's leadership reflect Germany's attitudes towards European security? What signals is Scholz sending with regard to the future of European security and the transatlantic alliance when he made it a condition that the United States also send Abrams tanks to Kyiv? What challenges does Germany's new Defense Minister Boris Pistorious face, and what are his near-term goals? Berlin has gotten over the hump of announcing tank deliveries to Ukraine, but how could Germany's caution affect its relationships in Europe and the long-term viability of the Zeitenwende?
---
Host
Jeff Rathke, President, AGI
Guests
Liana Fix, Fellow for Europe, Council on Foreign Relations