Episode 10: Transatlantic Strategy on China: Still Elusive?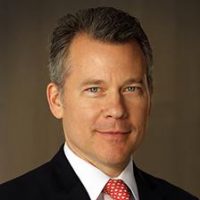 President of AGI
Jeffrey Rathke is the President of the American Institute for Contemporary German Studies at the Johns Hopkins University in Washington, DC.
Prior to joining AICGS, Jeff was a senior fellow and deputy director of the Europe Program at CSIS, where his work focused on transatlantic relations and U.S. security and defense policy. Jeff joined CSIS in 2015 from the State Department, after a 24-year career as a Foreign Service Officer, dedicated primarily to U.S. relations with Europe. He was director of the State Department Press Office from 2014 to 2015, briefing the State Department press corps and managing the Department's engagement with U.S. print and electronic media. Jeff led the political section of the U.S. Embassy in Kuala Lumpur from 2011 to 2014. Prior to that, he was deputy chief of staff to the NATO Secretary General in Brussels. He also served in Berlin as minister-counselor for political affairs (2006–2009), his second tour of duty in Germany. His Washington assignments have included deputy director of the Office of European Security and Political Affairs and duty officer in the White House Situation Room and State Department Operations Center.
Mr. Rathke was a Weinberg Fellow at Princeton University (2003–2004), winning the Master's in Public Policy Prize. He also served at U.S. Embassies in Dublin, Moscow, and Riga, which he helped open after the collapse of the Soviet Union. Mr. Rathke has been awarded national honors by Estonia, Latvia, and Lithuania, as well as several State Department awards. He holds an M.P.P. degree from Princeton University and B.A. and B.S. degrees from Cornell University. He speaks German, Russian, and Latvian.
__
German Marshall Fund of the United States
Noah Barkin was a DAAD/AICGS Research Fellow from mid-March to mid-May 2019. Noah Barkin is a senior visiting fellow in the German Marshall Fund's Asia Program based in Berlin. Prior to joining GMF, he was a journalist who had reported from over 20 countries in 25-year career with Reuters, specializing in German and European political and economic issues. He served as Bureau Chief for Germany/Austria/Switzerland and in other senior writing, editing, and management roles in Paris, London, and New York. Noah has written a regular "Inside Europe" column for the New York Times and authored a book on the introduction of the euro. A native Californian, he has a BA in Political Science and French from UC Berkeley and a Master's in International Affairs from Columbia University.
During his fellowship at AICGS, Noah will be focusing on evolving policies toward China in the United States and Europe, exploring potential areas for cooperation and conflict.
---
Never before has China featured so prominently in discussions among political leaders in Europe, Germany, and the United States. There is a growing consensus in Germany that China represents a significant and qualitatively different challenge than Berlin had long assumed. A similar re-assessment has been happening for quite a few years in the U.S., but in a much more public fashion, and it has accelerated under the Trump administration. How do the United States and Europe describe China in their official assessments?
China is the first country named in the U.S. National Security Strategy, which states: "China and Russia challenge American power, influence, and interests, attempting to erode American security and prosperity. They are determined to make economies less free and less fair, to grow their militaries, and to control information and data to repress their societies and expand their influence." Meanwhile, on the other side of the Atlantic, the European Commission just released its China Strategy in March, noting, "There is a growing appreciation in Europe that the balance of challenges and opportunities presented by China has shifted. In the last decade, China's economic power and political influence have grown with unprecedented scale and speed, reflecting its ambitions to become a leading global power."
The EU strategy goes on to cite areas of cooperation with Beijing, but it pointedly calls China "an economic competitor in the pursuit of technological leadership, and a systemic rival promoting alternative models of governance." German industry has a similar view, with the Federation of German Industries issuing a major report early this year calling China a "systemic competitor." (Listen to Episode 5 of The Zeitgeist, when we talked with one of the leading minds behind that report, Dr. Stefan Mair).
On any number of issues, seems to be a growing convergence of views between the U.S. and Europe, and that would seem to open the door to greater cooperation—a transatlantic effort to set priorities, develop compatible policies, and carry them out in a coordinated way.
In this episode of The Zeitgeist, Noah Barkin joins Jeff Rathke to talk about a transatlantic strategy with regard to China. Why does it remain elusive? Do the U.S., Germany, and the rest of Europe have the commonality of interest and the necessary trust and confidence in each other to make China a top policy priority? Or will that remain out of reach, like the old saying in the U.S., that "soccer is the sport of the future and it always will be"?
---
Host
Jeff Rathke, President, AGI
Guest
Noah Barkin, DAAD/AGI Research Fellow and Berlin-based Journalist
---
Support for this episode is provided in part by the Steven Muller New Initiatives Fund.