Dr. Josefin Graef is a DAAD/AGI Research Fellow from June to October 2023.
Dr. Graef holds a PhD in Political Science from the University of Birmingham and was a postdoctoral researcher at the Hertie School in Berlin (2018-2019) and at Aston University in Birmingham (2022-2023). From 2017 to 2023 she also co-convened the German Politics Specialist Group of the UK Political Studies Association (PSA).
Her work examines the place of far-right violence and terrorism in the social and political imagination of the European and global "West" since the end of the Second World War with a particular interest in Germany, Scandinavia, and the United States. Her current research focuses on how these imaginations help to (re)produce liberal-democratic orders and what role whiteness and white supremacy play in this context.
She has published on political violence, the populist radical right, German politics, and narrative methods, including a special issue on "Narrative, Political Violence and Social Change" (Studies in Conflict and Terrorism, 2020) and her book Imagining Far-right Terrorism: Violence, Immigration, and the Nation State in Contemporary Western Europe (Routledge, 2022).
At AGI, she will continue work on a major strand of her current research that deals with the intellectual legacy of U.S. theologian and political advisor Reinhold Niebuhr (1892-1971). Through archival research and interviews, her project explores how Niebuhr's (transatlantic) thinking about hope, sin, power, and self-criticism can help advance our understanding of white supremacist violence in Germany and the United States at a time of political polarization. The key questions driving her research are (1) What kind of problem is white supremacist violence, and how should we talk about it? (2) What kind of illusions do Germany and the United States hold about themselves and how can they confront them in light of their different histories of state- and nation-building, immigration, and violence? (3) Can the United States learn from Germany, and vice versa?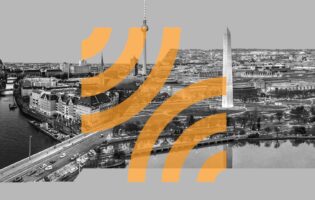 AGI is pleased to welcome Dr. Josefin Graef as a DAAD/AGI Research Fellow from June to October 2023. Dr. Graef holds a PhD in Political Science from the University of …