Episode 35: The Christian Democratic Union after Merkel: The Race for CDU Chairmanship and the 2021 Federal Election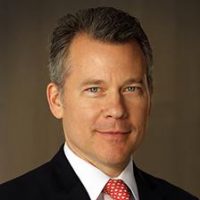 President of AICGS
Jeffrey Rathke is the President of the American Institute for Contemporary German Studies at the Johns Hopkins University in Washington, DC.
Prior to joining AICGS, Jeff was a senior fellow and deputy director of the Europe Program at CSIS, where his work focused on transatlantic relations and U.S. security and defense policy. Jeff joined CSIS in 2015 from the State Department, after a 24-year career as a Foreign Service Officer, dedicated primarily to U.S. relations with Europe. He was director of the State Department Press Office from 2014 to 2015, briefing the State Department press corps and managing the Department's engagement with U.S. print and electronic media. Jeff led the political section of the U.S. Embassy in Kuala Lumpur from 2011 to 2014. Prior to that, he was deputy chief of staff to the NATO Secretary General in Brussels. He also served in Berlin as minister-counselor for political affairs (2006–2009), his second tour of duty in Germany. His Washington assignments have included deputy director of the Office of European Security and Political Affairs and duty officer in the White House Situation Room and State Department Operations Center.
Mr. Rathke was a Weinberg Fellow at Princeton University (2003–2004), winning the Master's in Public Policy Prize. He also served at U.S. Embassies in Dublin, Moscow, and Riga, which he helped open after the collapse of the Soviet Union. Mr. Rathke has been awarded national honors by Estonia, Latvia, and Lithuania, as well as several State Department awards. He holds an M.P.P. degree from Princeton University and B.A. and B.S. degrees from Cornell University. He speaks German, Russian, and Latvian.
__
AICGS Non-Resident Fellow
Simon Schütz works as the spokesperson for the German Association of the Automotive Industry (VDA). Before that, he was an editor at BILD, covering U.S. politics as well as domestic politics in Germany. In addition, he freelanced for National Public Radio, where he wrote mostly about current developments in Germany.
Simon graduated from Freie Universität in Berlin, with an MA in Strategic Political Communication. He also studied at George Washington University in Washington, DC, where he primarily focused on public diplomacy and campaigning during elections.
Originally from Hof, Germany, Simon holds a BA in Political Science and Media Science from the Johannes Gutenberg University in Mainz. He also studied in Bordeaux, France.
During his time as a student, Simon worked as a research assistant for Dr. Andreas Nick, a member of the German Bundestag. During that time his main focus was foreign politics as well as digital developments. He also interned at Kekst CNC, Ketchum Pleon, and ZDF.
Simon was awarded with the "Deutschlandstipendium" scholarship and has been a fellow of the Arthur Burns as well as the RIAS program. Moreover, he is a Young Leader alumni of Global Bridges as well as Europe United. He is an alumni of Young Königswinter Conference and mastered the Media in Conflict Seminar in Herzliya), Israel.
He was a research intern at AICGS in 2016.
---
German Chancellor Angela Merkel will not stand for re-election when voters go to the polls on September 26, 2021. Her Christian Democratic Union (CDU) is one of the most successful political parties in post-war Europe, and recent surveys of German public opinion show the CDU 15-20 percentage points ahead of its nearest rivals. Chancellor Merkel has been in power since 2005, making her the second longest-serving chancellor in post-war Germany. After the election, Germany will have not only a new chancellor, but likely also a different governing coalition. As her departure nears, Merkel's legacy casts a long shadow over the CDU and the German political landscape.
On this episode of The Zeitgeist, Jeff Rathke talks with Simon Schütz, journalist and AGI non-resident fellow, about the race for the Chairmanship of the CDU and what the result could mean for the federal election in 2021. Will a new leader be able to maintain the CDU's edge over its rivals? What could the next coalition look like? And what effect could a change in German leadership have on foreign and domestic policy?
---
Host
Jeff Rathke, President, AGI
Guests
Simon Schütz, Journalist and AGI Non-Resident Fellow