Publication Preview: The German-Israeli Special Relationship
Senior Fellow; Director, Society, Culture & Politics Program
Dr. Eric Langenbacher is a Senior Fellow and Director of the Society, Culture & Politics Program at AICGS.
Dr. Langenbacher studied in Canada before completing his PhD in Georgetown University's Government Department in 2002. His research interests include collective memory, political culture, and electoral politics in Germany and Europe. Recent publications include the edited volumes Twilight of the Merkel Era: Power and Politics in Germany after the 2017 Bundestag Election (2019), The Merkel Republic: The 2013 Bundestag Election and its Consequences (2015), Dynamics of Memory and Identity in Contemporary Europe (co-edited with Ruth Wittlinger and Bill Niven, 2013), Power and the Past: Collective Memory and International Relations (co-edited with Yossi Shain, 2010), and From the Bonn to the Berlin Republic: Germany at the Twentieth Anniversary of Unification (co-edited with Jeffrey J. Anderson, 2010). With David Conradt, he is also the author of The German Polity, 10th and 11th edition (2013, 2017).
Dr. Langenbacher remains affiliated with Georgetown University as Teaching Professor and Director of the Honors Program in the Department of Government. He has also taught at George Washington University, Washington College, The University of Navarre, and the Universidad Nacional de General San Martin in Buenos Aires, Argentina, and has given talks across the world. He was selected Faculty Member of the Year by the School of Foreign Service in 2009 and was awarded a Fulbright grant in 1999-2000 and the Hopper Memorial Fellowship at Georgetown in 2000-2001. Since 2005, he has also been Managing Editor of German Politics and Society, which is housed in Georgetown's BMW Center for German and European Studies. Dr. Langenbacher has also planned and run dozens of short programs for groups from abroad, as well as for the U.S. Departments of State and Defense on a variety of topics pertaining to American and comparative politics, business, culture, and public policy.
__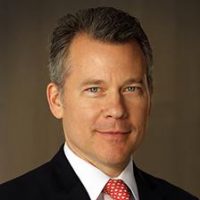 President of AGI
Jeffrey Rathke is the President of the American Institute for Contemporary German Studies at the Johns Hopkins University in Washington, DC.
Prior to joining AICGS, Jeff was a senior fellow and deputy director of the Europe Program at CSIS, where his work focused on transatlantic relations and U.S. security and defense policy. Jeff joined CSIS in 2015 from the State Department, after a 24-year career as a Foreign Service Officer, dedicated primarily to U.S. relations with Europe. He was director of the State Department Press Office from 2014 to 2015, briefing the State Department press corps and managing the Department's engagement with U.S. print and electronic media. Jeff led the political section of the U.S. Embassy in Kuala Lumpur from 2011 to 2014. Prior to that, he was deputy chief of staff to the NATO Secretary General in Brussels. He also served in Berlin as minister-counselor for political affairs (2006–2009), his second tour of duty in Germany. His Washington assignments have included deputy director of the Office of European Security and Political Affairs and duty officer in the White House Situation Room and State Department Operations Center.
Mr. Rathke was a Weinberg Fellow at Princeton University (2003–2004), winning the Master's in Public Policy Prize. He also served at U.S. Embassies in Dublin, Moscow, and Riga, which he helped open after the collapse of the Soviet Union. Mr. Rathke has been awarded national honors by Estonia, Latvia, and Lithuania, as well as several State Department awards. He holds an M.P.P. degree from Princeton University and B.A. and B.S. degrees from Cornell University. He speaks German, Russian, and Latvian.
__
In the coming weeks, the American-German Institute will publish "The German-Israeli Special Relationship: A Chronicle of Four Decades, 1983-2023" from Senior Fellow Dr. Lily Gardner Feldman. In light of the attacks on Israel on October 7, we are publishing a preview of Dr. Gardner Feldman's paper, including introductory remarks from AGI Senior Fellow and Society, Culture & Politics Director Dr. Eric Langenbacher, and AGI reflections on the Hamas attacks on Israel, their impact on Israel's relations with Germany and the United States, and the shocking rise in anti-Semitic incidents since October 7.
---
On the occasion of the 40th anniversary of our Institute, the Society, Culture, and Politics program is pleased to present Lily Gardner Feldman's policy brief devoted to understanding four decades of relations between Israel and Germany. Few countries have such a complicated and intertwined historical relationship and even fewer countries are as important to each other in the present. Grasping the historical evolution—the triumphs and tensions—of this special relationship are vital to understanding both countries, the larger regions in which they are embedded, and much of the international architecture of the contemporary world.
No one is as well-suited to write this report as Lily, who devoted her entire intellectual career to understanding Germany's efforts to redeem itself after the Holocaust and to reconcile with its neighbors and victims. Her work on the Israeli-German relationship has been central to this larger research agenda. Equally important is her foundational impact on the American-German Institute. Indeed, she was AGI's first Research Director, co-directed the Institute in 1995, and impeccably led the Society, Culture & Politics program for many years, so it is especially poignant that she has produced this report for our 40th anniversary year.
Readers should note that this report was completed before the October 7, 2023, Hamas terrorist attack on Israel and Israel's military response. Although mentioned in the report, this strife is on-going. The consequences of these events, especially for the Israeli-German relationship, cannot yet be foreseen and cannot be properly incorporated in the analysis. Nevertheless, the strong support and solidarity from the German government for Israel corresponds to the findings discussed in this report.
---
Indeed, the terrorist attack on Israel on October 7 shocked the world, a stunning, deliberate, and coordinated act of violence that became the deadliest day for Jews since the end of the Holocaust. Hamas terrorists killed more than 1,400 children, women, and men—many of them citizens of Germany and the United States—and took hundreds more back to the Gaza Strip as hostages. It was an attack on Israel's very right to exist. The governments and political leadership in the United States and Germany immediately condemned the attack, emphasized Israel's indisputable right to self-defense, and pledged to stand by Israel. The United States and German governments also have expressed concerns and sought to minimize the suffering of the Palestinian civilian population in the Gaza Strip, where local authorities report that over 10,000 people have been killed, as Israel exercises its right of self-defense and responds to the Hamas attack. These concerns are shared by many non-governmental organizations and interested citizens who have freely demonstrated and expressed their views publicly.
Support for the Palestinian people is vital, as is opposition to anti-Muslim sentiment and actions. There should be no blurring of the line between supporting Palestinians and supporting a terrorist group, Hamas, that denies Israel's right to exist and that employs brutal violence against its people.
Germany and the United States have witnessed a startling upsurge in anti-Semitic incidents since October 7—increasing by 240 percent in Germany immediately after the attack and by over 300 percent in the United States. This sparks deep reflection and consternation in both countries, which are proud of their vibrant Jewish communities—in Germany's case, the flourishing of Jewish life in recent years has been especially remarkable in the land where the genocide against the Jews was planned and perpetrated during the period of National Socialist rule. Both countries must redouble their efforts to oppose anti-Semitism and the hatred and violence it spawns.
---
The German-Israeli Special Relationship: A Chronicle of Four Decades, 1983-2023
Introduction
Since the early 1950s, a "special relationship" between Germany and Israel has been a constant feature of the improbable partnership embarked upon by Germans and Jews in the aftermath of the Holocaust. The term "special relationship" (Sonderbeziehung, Sonderverhältnis) has a dual sense, combining the darkness of the Holocaust with the light that had carried the two countries over the abyss. The term captures both the uniqueness of history and the preferential relations that Germany and Israel each had with few other countries.[1]
Ever since the American Institute for Contemporary German Studies (AICGS—now the American-German Institute) was founded in 1983, the German-Israeli special relationship has figured prominently in its work through seminars, conferences, research, and fellowships.
This essay addresses key events and developments in the German-Israeli special relationship during the forty years since the American-German Institute was founded. Though some non-governmental activity will be discussed, attention is largely paid to government behavior.[2]
The dualities that defined preferential ties between Germany and Israel from 1950 to 1983 endure to the present day and thus are relevant to this essay's examination of the period between 1983 and 2023:
Structure: Concrete institutions & the more general overarching framework of a culture of remembrance (Erinnerungskultur)
Motives: Pragmatism & morality
Actors: Governments & civil society
Content: Cooperation & conflict
Contours: Dealing with the past of World War II and the Holocaust (Aufarbeitung der Vergangenheit) & the future
Opinion: Positive & negative attitudes of society
Context: Bilateral & multilateral (European Union) frameworks
The years between 1983 and 2023 can be broken down into four discrete periods and stages:
1983-1992: Growth and Crises
1993-2002: Consolidation and the Pragmatism-Morality Spectrum
2003-2012 Reassessment and New Institutions
2013-2023: Maturity and Fundamental Challenge
---
[1] For an early in-depth theoretical and empirical study, see Lily Gardner Feldman, The Special Relationship between West Germany and Israel (Boston: Allen &Unwin, 1984). For more recent works on the German-Israeli special relationship in theory and practice, see Kai Oppermann and Mischa Hansel, "The Ontological Security of Special Relationships: The Case of Germany's Relationship with Israel" in European Journal of International Security, vol. 4, issue 1, February 2019; Felix Berenskötter and Mor Mitrani, "Is It Friendship? An Analysis of Contemporary German-Israeli Relations," International Studies Quarterly, vol. 66, 2022; and Kathrin Bachleitner, "The Path to Atonement: West Germany and Israel after the Holocaust," International Security, vol.47, no. 4, Spring 2023.
[2] For more on civil society organizations, see: Lily Gardner Feldman, "The Role of Non-State Actors in Germany's Foreign Policy of Reconciliation," in Anne-Marie Le Gloannec, ed., Non-State Actors in International Relations: The Case of Germany (Manchester: Manchester University Press, 2007).