The End of Europe as We Know It?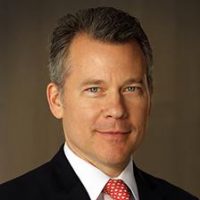 President of AICGS
Jeffrey Rathke is the President of the American Institute for Contemporary German Studies at the Johns Hopkins University in Washington, DC.
Prior to joining AICGS, Jeff was a senior fellow and deputy director of the Europe Program at CSIS, where his work focused on transatlantic relations and U.S. security and defense policy. Jeff joined CSIS in 2015 from the State Department, after a 24-year career as a Foreign Service Officer, dedicated primarily to U.S. relations with Europe. He was director of the State Department Press Office from 2014 to 2015, briefing the State Department press corps and managing the Department's engagement with U.S. print and electronic media. Jeff led the political section of the U.S. Embassy in Kuala Lumpur from 2011 to 2014. Prior to that, he was deputy chief of staff to the NATO Secretary General in Brussels. He also served in Berlin as minister-counselor for political affairs (2006–2009), his second tour of duty in Germany. His Washington assignments have included deputy director of the Office of European Security and Political Affairs and duty officer in the White House Situation Room and State Department Operations Center.
Mr. Rathke was a Weinberg Fellow at Princeton University (2003–2004), winning the Master's in Public Policy Prize. He also served at U.S. Embassies in Dublin, Moscow, and Riga, which he helped open after the collapse of the Soviet Union. Mr. Rathke has been awarded national honors by Estonia, Latvia, and Lithuania, as well as several State Department awards. He holds an M.P.P. degree from Princeton University and B.A. and B.S. degrees from Cornell University. He speaks German, Russian, and Latvian.
__
Germany's Obligation to Reinforce Europe's Political-Security Order
Just a few days ago in Munich, Western leaders proudly proclaimed their solidarity in the Russia crisis and their resolve to impose massive consequences in response to any Russian aggression against Ukraine. It was an impressive demonstration from countries that since the 2014 Russian invasion of Ukraine often settled for half-measures. But the Munich solidarity in many ways was inwardly directed—a commitment to act in unison within NATO and the European Union to impose punishment after a potential Russian attack. Only for some did it extend to assisting Kyiv in bolstering its self-defense capacity, as Ukrainian President Volodymyr Zelenskyy bitterly reminded them.
The human and material cost of Russian President Putin's effort to wipe away the European political and security system will be borne first and foremost by Ukrainians. The cost to the transatlantic community will be unequally distributed over time and across Europe, the United States, and Canada.
There will be enough time for analysis, recriminations, and self-criticism: Western policy has failed to deter Russia from a brutal, comprehensive assault on its peaceful Ukrainian neighbor and the decades-old foundation of peace in Europe. But most important is to translate this shock into action and resolve, nowhere more urgently needed than in Germany, and to communicate the need for shared sacrifice among Western publics that will be crucial to sustaining a long-term reconstruction of deterrence in Europe.
The sobering reality of war cannot be countered by armies of adjectives in official statements alone. European leaders responded quickly on February 23 to Russia's pretext for war: the recognition of the Moscow-controlled Luhansk and Donetsk separatist regions as independent. Germany, for its part, took perhaps the most consequential step by putting the Nord Stream 2 gas pipeline into a deep freeze when Chancellor Scholz ordered the Economics Ministry to withdraw and reassess the October 2021 finding of then-Chancellor Merkel's Economics Minister Peter Altmaier that the pipeline did not endanger energy security in Germany and Europe. The detractors who doubted that Chancellor Scholz would follow through in this way on his promise that "all options are on the table" have been subdued in acknowledging that Germany has delivered on Washington's principal demand.
But most important is to translate this shock into action and resolve, nowhere more urgently needed than in Germany.
Germany is the center of gravity in European actions to impose costs on Moscow and reduce Europe's vulnerability to Russian coercion. Will Berlin draw fundamental conclusions from this historic turning point or attempt to muddle through? The ambition of Chancellor Scholz's government to transform German energy policy presents a risk and an opportunity. It is a risk because natural gas (of which 55 percent comes from Russia) represents a crucial energy "bridge" while the development of renewables needs to be accelerated. It is an opportunity because German political leaders such as Vice Chancellor/Economics Minister Robert Habeck (Green Party) have identified the overreliance on Russia as a vulnerability that must be closed. Habeck has also raised the need for Germany to reform its gas storage system, with 25 percent of the storage capacity controlled by Gazprom-affiliated companies.
Militarily, Germany has been roiled by the Russia crisis in ways that are only beginning. The Chief of the Germany Navy, Vice Admiral Kay-Achim Schönbach, resigned in shame in January after public comments calling for respect for Vladimir Putin and suggesting that Christian Russia should be a natural partner of Germany. At the outbreak of war on February 24, the Chief of the German Army, Lt. General Alfons Mais, commented on the state of his service on LinkedIn, calling the army "more or less naked," and ruing the fact that he and others (presumably officers) had failed to persuade the Defense Ministry to learn lessons from the 2014 Russian annexation of Crimea. As a result, he argued, Germany was "extremely limited" in what it could offer its allies, a situation that left him "fed up." Annegret Kramp-Karrenbauer, who until three months ago was Defense Minister, wrote February 24 in a Twitter post that "I'm so angry at ourselves for our historical failure. After Georgia, Crimea, and Donbas, we have not prepared anything that would have really deterred Putin. We have forgotten the lesson of Schmidt and Kohl that negotiation always comes first, but we have to be militarily strong enough to make non-negotiation not an option for the other side." The need for Germany to rebuild its defense capacity will intensify after the Russian assault on Ukraine, and the unvarnished views of Mais and Kramp-Karrenbauer could propel the public discussion.
Will Berlin draw fundamental conclusions from this historic turning point or attempt to muddle through?
Politically, the Social Democratic Party is crucial to the reorientation of German foreign policy, because it is Chancellor Scholz's party, and it is the most conflicted about its approach to Russia. The voices that prize dialogue with Russia over the deterrence that has undergirded it throughout Germany's post-War history are caught out by Putin's aggression. The embarrassment engendered by ex-SPD Chancellor Gerhard Schröder's status as a Russian energy lobbyist has pushed the party to distance itself further from him—Scholz disowned Schröder's opinions while standing next to Russian President Putin during his Moscow visit, and the left-leaning SPD Secretary General Kevin Kühnert has criticized Schröder's money-making with Russia. More fundamentally, SPD co-Chairman Lars Klingbeil has stated publicly that "We haven't found a convincing way to deal with authoritarian states," and wondered whether the "concept of trying to bring about change in a country through closer ties and economic relations is still relevant." While the SPD is unlikely ever to part with its nostalgia for Ostpolitik and German society more broadly nurtures senses of guilt and self-interest toward Russia, the brazenness of the Russian invasion of Ukraine will open a window for reorienting the SPD's approach.
Germany has entertained illusions that peace in Europe was self-sustaining and the commerce with Russia brought profits with no risk. Political vision in Berlin has the opportunity to reshape Germany's leadership in Europe. Vladimir Putin is forcing Germany to shed illusions through an unprecedented aggression that brings confrontation to the borders of the EU and NATO.