German Chancellor's Visit Tests Biden's Bet on Berlin and Scholz's Leadership Aspirations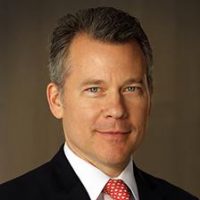 President of AGI
Jeffrey Rathke is the President of the American Institute for Contemporary German Studies at the Johns Hopkins University in Washington, DC.
Prior to joining AICGS, Jeff was a senior fellow and deputy director of the Europe Program at CSIS, where his work focused on transatlantic relations and U.S. security and defense policy. Jeff joined CSIS in 2015 from the State Department, after a 24-year career as a Foreign Service Officer, dedicated primarily to U.S. relations with Europe. He was director of the State Department Press Office from 2014 to 2015, briefing the State Department press corps and managing the Department's engagement with U.S. print and electronic media. Jeff led the political section of the U.S. Embassy in Kuala Lumpur from 2011 to 2014. Prior to that, he was deputy chief of staff to the NATO Secretary General in Brussels. He also served in Berlin as minister-counselor for political affairs (2006–2009), his second tour of duty in Germany. His Washington assignments have included deputy director of the Office of European Security and Political Affairs and duty officer in the White House Situation Room and State Department Operations Center.
Mr. Rathke was a Weinberg Fellow at Princeton University (2003–2004), winning the Master's in Public Policy Prize. He also served at U.S. Embassies in Dublin, Moscow, and Riga, which he helped open after the collapse of the Soviet Union. Mr. Rathke has been awarded national honors by Estonia, Latvia, and Lithuania, as well as several State Department awards. He holds an M.P.P. degree from Princeton University and B.A. and B.S. degrees from Cornell University. He speaks German, Russian, and Latvian.
__
Olaf Scholz's first visit to the U.S. as German Chancellor February 7 will be a test for the German leader and for his U.S. host, President Joe Biden. At stake for the President is his reboot of U.S. foreign policy – specifically, the bet that his administration's extensive efforts to rebuild relations with American allies will pay dividends when they are needed most, such as the sharpening crisis Russia has provoked in Europe or with respect to the technological and political competition with China. For the Chancellor, what is on the line is the credibility of Germany's post-2014 commitment to take "greater responsibility" in international relations. Germany — Europe's largest and most influential country – has a crucial interest in thwarting Russia's efforts to roll back the political order that has fostered 30 years of peace and prosperity in Europe, from which Germany has benefitted more than anyone.
Scholz took office two months ago at the head of an unprecedented three-party coalition with ambitions to reform Germany's energy and climate policies and to spur the country's digitalization while managing the COVID pandemic. He has watched that agenda shoved off the front pages by the Russia crisis, for which he and his government have had insufficient answers. Scholz's Social Democratic Party (SPD) in particular has been paralyzed by its extreme aversion to confronting Russia – the SPD's foreign policy for decades has breathed the fifty year-old fumes of the détente policies of Willy Brandt and Helmut Schmidt. The party's most prominent former leader, ex-Chancellor Gerhard Schröder, sits on the boards of Russian energy-related companies, and just last week was nominated for a seat on the board of directors of Gazprom. For years, Schröder has been a walking reality-free zone, touting Russian President Putin's democratic credentials, amplifying Moscow's grievances, and topping it off most recently accusing Ukraine of "saber-rattling." An emergency meeting of the SPD leadership on their Russia policy on January 31 sought refuge in lowest-common-denominator talking points: that Russia was the aggressor in the current crisis, and that all options were on the table if Russia violated once again Ukraine's sovereignty and territorial integrity. SPD co-Chairman Lars Klingbeil implicitly acknowledged the inadequacy of the party's position February 3, calling for a further reassessment of the Social Democrats' approach to Russia.
This is a welcome and necessary sign, but only a start. German international leadership in this crisis would look different: demonstratively organizing European consensus at the highest levels, communicating to the German and international public the seriousness of the situation, and expressing in unmistakably clear terms that Germany is committed to preserving the political and security order in Europe in solidarity with its allies, even if that requires great sacrifice from Germany. Instead, Germany's minimalist actions have sparked anxiety in Kyiv and in NATO and European Union capitals, something Berlin can ill afford.
In recent days, Chancellor Scholz's spokesman has announced further engagements that could display German power and influence more fully: Scholz will visit Ukraine, followed by Russia February 14-15. The chancellor's meetings in Washington and subsequent travels are an opportunity to show that Berlin's commitment to a muscular, creative values-driven foreign policy is not just an aspiration. Chancellor Scholz's talks with President Biden give him the opportunity to turn a page and pursue an effective, coordinated response with Germany's allies rather than to blend into the European wallpaper and leave the political, persuasive, and public work to others. Berlin's ability to shape the European and international response to growing international challenges depends on it.
President Biden, too, has a lot riding on his relationship with Germany. From the start of his presidency, Biden's administration promised that a renewed partnership with Berlin, after four years of friction and neglect under former president Donald Trump, would magnify the power of advanced democracies to defend liberal values, fusing their economic and industrial might with a vision to best the rising challenge of authoritarian powers like Russia and China. The Biden administration has taken significant risks as it restored collaboration with Germany – including by foregoing the imposition of U.S. sanctions against the Russian-German gas pipeline, Nord Stream 2. Biden's efforts toward then-Chancellor Merkel and now Scholz sparked frustration in Congress and fueled Republican obstructionism toward the administration's national security nominees. Personnel matters are one thing – a potential Russian war against Ukraine is an entirely different matter. A united Western stance is the single greatest impediment to Russian aggression. If the President and Chancellor can demonstrate that they are on the same page and committed to an active and effective deterrence of Russia and preservation of the European order, the administration's path will be bolstered at home and abroad. Disunity or watered-down outcomes would only encourage Moscow to probe further in hopes of dividing the U.S. and Europe.
Germany has ruled out a priori any weapons sales or significant military support to Ukraine – arguing that German crimes against the Soviet Union during the Second World War make it unthinkable that German weapons could be used against Russia (though Ukraine suffered from the Nazi invasion as much as any part of the Soviet Union). This logic is the product of a society deeply pacifist and still traumatized by its wartime experience, and it maddeningly implies that Germany is unable to distinguish between aggressor and victim. The effect is that Germany is partially and unilaterally disarmed in the exercise of international power, and it feeds concerns about Berlin's reliability as an ally.
Germany may bring fewer tools to the table, but it has shown in the past that it is able to compensate by making greater sacrifices in other areas – political, economic, and often financial – in order to bolster its solidarity and advance Western initiatives. If military support toward Ukraine is off the table, Berlin still could reinforce the efforts in NATO's eastern member states to strengthen their defenses, such as in Lithuania, where Germany leads the NATO multinational battlegroup. Might Germany employ its economic power to deter Russia? Here the record is similarly mixed: Chancellor Scholz said February 2 that Russian military aggression against Ukraine would "have a very high price," and Foreign Minister Annalena Baerbock has emphasized Germany's work with its partners on sanctions options, "including Nord Stream 2," but the domestic debate often has focused as much on what Germany might not do (sanctions that would cut Russia off from the SWIFT international payments network, loopholes to allow continued energy purchases, Nord Stream 2).
Germany's interest is clear: to preserve the rule of law and sovereign equality of nations in Europe, to thwart Russian attempts to split the U.S. and Europe, and to prevent divisions in Europe. When it has mattered, Germany has shown in the past the ability to overcome its self-imposed limitations in the interest of international peace and stability. The successful diplomacy around the collapse of communism in Europe and later in the Soviet Union depended on Germany's strengths and boldness, financing the integration of East Germany and supporting the USSR as it withdrew hundreds of thousands of troops from central and eastern Europe. In 1999, Germany for the first time since the war agreed to use military force, to stop the genocide in Kosovo. Europe will be led by Germany or through its absence. The Russian challenge to Germany's most precious political assets requires a new creativity and leadership from Berlin, to preserve the world in which Germany has been able to flourish in peace and security.