Episode 79: Germany's Public Health Care System
Christine Arentz is a Professor for (Health) Economics at the Institute for Insurance Studies (ivwKöln) at TH Köln – University of Applied Sciences (Cologne, Germany).
Her professional experience includes four years of working as a Senior Economist and Project Manager at the Scientific Institute of the Private Health Insurance (WIP) in Cologne, Germany, where she managed research projects in International Health Care System Comparisons, (German) Health Policy and Long-term Care.
She holds a PhD in Economics and completed her thesis at the Institute of Economic Policy at the University of Cologne (Germany), where she worked as a researcher, lecturer, and policy advisor. In the earlier stages of her career, she worked as a credit analyst in international real estate, as well as a research assistant both at the United Nations Economic Commission for Europe (UNECE) and the German Central Bank.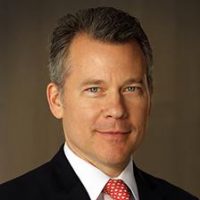 President of AGI
Jeffrey Rathke is the President of the American Institute for Contemporary German Studies at the Johns Hopkins University in Washington, DC.
Prior to joining AICGS, Jeff was a senior fellow and deputy director of the Europe Program at CSIS, where his work focused on transatlantic relations and U.S. security and defense policy. Jeff joined CSIS in 2015 from the State Department, after a 24-year career as a Foreign Service Officer, dedicated primarily to U.S. relations with Europe. He was director of the State Department Press Office from 2014 to 2015, briefing the State Department press corps and managing the Department's engagement with U.S. print and electronic media. Jeff led the political section of the U.S. Embassy in Kuala Lumpur from 2011 to 2014. Prior to that, he was deputy chief of staff to the NATO Secretary General in Brussels. He also served in Berlin as minister-counselor for political affairs (2006–2009), his second tour of duty in Germany. His Washington assignments have included deputy director of the Office of European Security and Political Affairs and duty officer in the White House Situation Room and State Department Operations Center.
Mr. Rathke was a Weinberg Fellow at Princeton University (2003–2004), winning the Master's in Public Policy Prize. He also served at U.S. Embassies in Dublin, Moscow, and Riga, which he helped open after the collapse of the Soviet Union. Mr. Rathke has been awarded national honors by Estonia, Latvia, and Lithuania, as well as several State Department awards. He holds an M.P.P. degree from Princeton University and B.A. and B.S. degrees from Cornell University. He speaks German, Russian, and Latvian.
__
---
On this episode of The Zeitgeist, AGI president Jeff Rathke and Dr. Christine Arentz, Professor for Health Economics at the University of Applied Sciences in Cologne, discuss Germany's public health system since the COVID-19 pandemic, in particular the issue of rising demand for long-term care. How has the public discussion on health care changed since the pandemic? Is the German health care system adequately financed to handle pandemic-related health emergencies as well as other emerging public health needs like long-term care? What are some of the major disagreements and key challenges concerning funding social health schemes? How would the proposed changes, such as allowing more opt-outs from public social insurance or reducing co-payments across the board, impact financing and performance of Germany's health care system? What could be done to improve the country's capacity in terms of health care personnel and facility for increasing long-term care needs?
---
Host
Jeff Rathke, President, AGI
Guest
Christine Arentz, Professor for Health Economics, TH Köln (University of Applied Sciences, Cologne)