Episode 36: The Politics of Drones and the Future of Germany's Defense Policy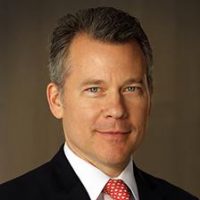 President of AGI
Jeffrey Rathke is the President of the American Institute for Contemporary German Studies at the Johns Hopkins University in Washington, DC.
Prior to joining AICGS, Jeff was a senior fellow and deputy director of the Europe Program at CSIS, where his work focused on transatlantic relations and U.S. security and defense policy. Jeff joined CSIS in 2015 from the State Department, after a 24-year career as a Foreign Service Officer, dedicated primarily to U.S. relations with Europe. He was director of the State Department Press Office from 2014 to 2015, briefing the State Department press corps and managing the Department's engagement with U.S. print and electronic media. Jeff led the political section of the U.S. Embassy in Kuala Lumpur from 2011 to 2014. Prior to that, he was deputy chief of staff to the NATO Secretary General in Brussels. He also served in Berlin as minister-counselor for political affairs (2006–2009), his second tour of duty in Germany. His Washington assignments have included deputy director of the Office of European Security and Political Affairs and duty officer in the White House Situation Room and State Department Operations Center.
Mr. Rathke was a Weinberg Fellow at Princeton University (2003–2004), winning the Master's in Public Policy Prize. He also served at U.S. Embassies in Dublin, Moscow, and Riga, which he helped open after the collapse of the Soviet Union. Mr. Rathke has been awarded national honors by Estonia, Latvia, and Lithuania, as well as several State Department awards. He holds an M.P.P. degree from Princeton University and B.A. and B.S. degrees from Cornell University. He speaks German, Russian, and Latvian.
__
European Council on Foreign Relations
Dr. Ulrike Franke is a policy fellow at the European Council on Foreign Relations (ECFR) and part of ECFR's New European Security Initiative. Her areas of focus include German and European security and defence, the future of warfare, and the impact of new technologies such as drones and artificial intelligence.
---
Germany has dramatically increased its defense spending since the wake-up call of Russia's 2014 annexation of Crimea and intervention in eastern Ukraine – the 2020 defense budget is 40% greater than just six years prior. Does Germany's vision for its security and defense role match those expanded resources? On the one hand, the German government has agreed with France to push forward on the next generation of defense systems in the air, the Future Combat Air System (FCAS). On the other hand, political disagreements within Chancellor Merkel's Grand Coalition government have recently prevented the Bundeswehr from acquiring armed unmanned air systems ("drones") — the Social Democratic Party refused to agree to the acquisition, asserting a need for further deliberation. What does this difficulty indicate about Germany's defense challenges and political-strategic culture?
In this episode of The Zeitgeist, AGI President Jeff Rathke discusses the impact and implications of this development with Dr. Ulrike Franke, one of Germany's leading experts on the impact of new technologies on defense and a Policy Fellow at the European Council on Foreign Relations. How do SPD's misgivings over drones reflect its leadership's shift on defense policy? How do other mainstream German parties including the Greens and the Christian Democratic Union see the use of armed drones? How will this affect Germany's international relationships, including with France on the Future Combat Air System, in which armed unmanned systems will be an integral part? Will a new governing coalition in Germany after the upcoming federal election boost the country's ability to modernize its defense policy and adapt to the changing way of war?
---
Host
Jeff Rathke, President, AGI
Guests
Ulrike Franke, Policy Fellow, European Council on Foreign Relations (ECFR)