Episode 33: The German Approach to China and the Indo-Pacific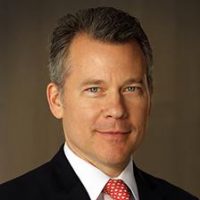 President of AICGS
Jeffrey Rathke is the President of the American Institute for Contemporary German Studies at the Johns Hopkins University in Washington, DC.
Prior to joining AICGS, Jeff was a senior fellow and deputy director of the Europe Program at CSIS, where his work focused on transatlantic relations and U.S. security and defense policy. Jeff joined CSIS in 2015 from the State Department, after a 24-year career as a Foreign Service Officer, dedicated primarily to U.S. relations with Europe. He was director of the State Department Press Office from 2014 to 2015, briefing the State Department press corps and managing the Department's engagement with U.S. print and electronic media. Jeff led the political section of the U.S. Embassy in Kuala Lumpur from 2011 to 2014. Prior to that, he was deputy chief of staff to the NATO Secretary General in Brussels. He also served in Berlin as minister-counselor for political affairs (2006–2009), his second tour of duty in Germany. His Washington assignments have included deputy director of the Office of European Security and Political Affairs and duty officer in the White House Situation Room and State Department Operations Center.
Mr. Rathke was a Weinberg Fellow at Princeton University (2003–2004), winning the Master's in Public Policy Prize. He also served at U.S. Embassies in Dublin, Moscow, and Riga, which he helped open after the collapse of the Soviet Union. Mr. Rathke has been awarded national honors by Estonia, Latvia, and Lithuania, as well as several State Department awards. He holds an M.P.P. degree from Princeton University and B.A. and B.S. degrees from Cornell University. He speaks German, Russian, and Latvian.
__
Federal Foreign Office
Ambassador Petra Sigmund is Director General for Asia and the Pacific in the German Federal Foreign Office. Within the Foreign Office, she has also held the posts of Deputy Director General for East Asia, Southeast Asia, and the Pacific; Head of the East Asia Division (China, Japan, Republic of Korea, DPRK, Mongolia); and Head of Division for France, the Netherlands, Belgium, Luxemburg, Monaco, among others. She speaks German, English, French, and Chinese and studied Chinese Studies, Political Science, and Economic Policy at Berlin Free University and the People's University in Beijing.
---
Germany's relationship with China is one of Berlin's top priorities. In the past few years, a crucial debate has taken place in Germany and has broadened the issues in the bilateral relationship with Beijing, with concerns about the bilateral economic partnership now joined by a growing emphasis on geostrategic interests, China's changing international role, as well as values.
The German government envisions its relationship with China in the larger context of the Indo-Pacific region, where dynamic economies are poised to drive global economic growth in the coming decades, but where complex political tensions and competition are present.  Meanwhile, U.S. efforts to revitalize old alliances and build new ones in the region are already underway, with many large democracies in Asia and Oceania such as Japan, India, and Australia adopting important roles. American policy will play a central role in defining the landscape in which Berlin will carry out its approach to China and the Indo-Pacific.
On this episode of The Zeitgeist, Jeff Rathke is joined by Ambassador Petra Sigmund, Director General for Asia and the Pacific in the German Federal Foreign Office, to discuss the German government's approach to China, what role the country sees for itself in an Indo-Pacific that increasingly is marked by Sino-U.S. strategic competition, and the scope for and greatest potential for cooperation with Germany's traditional partners such as the United States.
---
Germany's Indo-Pacific Strategy
---
Host
Jeff Rathke, President, AGI
Guest
Amb. Petra Sigmund, Director General for Asia and the Pacific in the German Federal Foreign Office