Episode 31: How Ike Led: A Conversation with Susan Eisenhower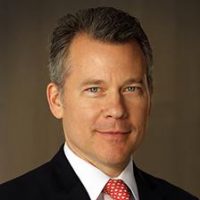 President of AGI
Jeffrey Rathke is the President of the American Institute for Contemporary German Studies at the Johns Hopkins University in Washington, DC.
Prior to joining AICGS, Jeff was a senior fellow and deputy director of the Europe Program at CSIS, where his work focused on transatlantic relations and U.S. security and defense policy. Jeff joined CSIS in 2015 from the State Department, after a 24-year career as a Foreign Service Officer, dedicated primarily to U.S. relations with Europe. He was director of the State Department Press Office from 2014 to 2015, briefing the State Department press corps and managing the Department's engagement with U.S. print and electronic media. Jeff led the political section of the U.S. Embassy in Kuala Lumpur from 2011 to 2014. Prior to that, he was deputy chief of staff to the NATO Secretary General in Brussels. He also served in Berlin as minister-counselor for political affairs (2006–2009), his second tour of duty in Germany. His Washington assignments have included deputy director of the Office of European Security and Political Affairs and duty officer in the White House Situation Room and State Department Operations Center.
Mr. Rathke was a Weinberg Fellow at Princeton University (2003–2004), winning the Master's in Public Policy Prize. He also served at U.S. Embassies in Dublin, Moscow, and Riga, which he helped open after the collapse of the Soviet Union. Mr. Rathke has been awarded national honors by Estonia, Latvia, and Lithuania, as well as several State Department awards. He holds an M.P.P. degree from Princeton University and B.A. and B.S. degrees from Cornell University. He speaks German, Russian, and Latvian.
__
CEO and Chairman, The Eisenhower Group, Inc.
Susan Eisenhower is the CEO and Chairman of The Eisenhower Group, Inc. (EGI), a Washington D.C. based consulting company founded in 1986. For more than twenty-five years the company has provided strategic counsel on business development, public affairs and communications projects. EGI has advised Fortune 500 companies, not just in the United States, but also abroad—in China, Russia, Central Asia and Western Europe for such companies as American Express, IBM, Coca Cola, AES, Alcoa, and General Electric.
In addition to her work through EGI, Susan Eisenhower has also had a distinguished career as a policy analyst. She is Chairman Emeritus at the Eisenhower Institute of Gettysburg College, where she served as president twice. She has also been a Fellow at Harvard's Institute of Politics and a Distinguished Fellow at the Nixon Center, now called the Center for National Interest.
She is an AICGS Trustee.
---
Germany was a part of President Dwight D. Eisenhower's life from his earliest days—his family descended from German immigrants and lived in a tight-knit, pious community in Kansas.  As Supreme Commander of Allied Forces in Europe, as the first Supreme Commander of NATO forces, and as president, Germany was central in his thinking and his accomplishments.
Ahead of the dedication of the Dwight D. Eisenhower Memorial on September 17, 2020, AGI President Jeff Rathke spoke with Susan Eisenhower, noted strategist and policy analyst, granddaughter of Dwight Eisenhower, and AGI Trustee. She is the author of a new book, How Ike Led, which assesses the formation of his character and how he demonstrated his core principles through his leadership in war, in dealing with a conquered Germany, and in leading the United States for eight years as president.
The Eisenhower memorial will remind visitors to the nation's capital of the life and accomplishments of the five-star General and 34th President of the United States—a figure who left a mark on the twentieth century like few others. On this episode of The Zeitgeist, Jeff Rathke and Susan Eisenhower discuss those accomplishments, Ike's views toward Germany, and his lasting legacy in American politics and the transatlantic relationship.
---
---
Host
Jeff Rathke, President, AGI
Guest
Susan Eisenhower, CEO and Chairman of The Eisenhower Group, Inc. and AGI Trustee