Episode 23: Health Minister Jens Spahn on the Coronavirus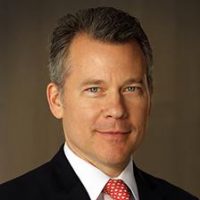 President of AGI
Jeffrey Rathke is the President of the American Institute for Contemporary German Studies at the Johns Hopkins University in Washington, DC.
Prior to joining AICGS, Jeff was a senior fellow and deputy director of the Europe Program at CSIS, where his work focused on transatlantic relations and U.S. security and defense policy. Jeff joined CSIS in 2015 from the State Department, after a 24-year career as a Foreign Service Officer, dedicated primarily to U.S. relations with Europe. He was director of the State Department Press Office from 2014 to 2015, briefing the State Department press corps and managing the Department's engagement with U.S. print and electronic media. Jeff led the political section of the U.S. Embassy in Kuala Lumpur from 2011 to 2014. Prior to that, he was deputy chief of staff to the NATO Secretary General in Brussels. He also served in Berlin as minister-counselor for political affairs (2006–2009), his second tour of duty in Germany. His Washington assignments have included deputy director of the Office of European Security and Political Affairs and duty officer in the White House Situation Room and State Department Operations Center.
Mr. Rathke was a Weinberg Fellow at Princeton University (2003–2004), winning the Master's in Public Policy Prize. He also served at U.S. Embassies in Dublin, Moscow, and Riga, which he helped open after the collapse of the Soviet Union. Mr. Rathke has been awarded national honors by Estonia, Latvia, and Lithuania, as well as several State Department awards. He holds an M.P.P. degree from Princeton University and B.A. and B.S. degrees from Cornell University. He speaks German, Russian, and Latvian.
__
Federal Minister of Health
Jens Spahn has been Federal Minister of Health since 2018. After training as a banker, he was Parliamentary State Secretary to the Federal Minister of Finance from 2013 to 2018. He has been a Member of the German Bundestag since 2002.
---
The globe is gripped by the coronavirus pandemic.  Germany appears to many to be a success story of sorts: over 150,000 infections, but a low death rate.  Widespread testing. A well-resourced health system that has been able to manage the patient load thus far. The country thoroughly implemented a nationwide lockdown and social distancing—doing well enough that it now is starting to relax some restrictions.
Inside Germany, however, the picture is more complicated.  After a period of great solidarity, including mainstream opposition parties, the national government and the individual states now are taking initial steps to return some elements of normal life and deciding how quickly that can proceed. Is it time, or as Chancellor Merkel warned on April 23, is the country still on "thin ice" requiring a cautious approach?
There are also questions about the European and global dimensions of the crisis, including the globalized economy and critical supply chains.  In sum, we are all struggling to conceive what the world after the pandemic will look like.
On this episode of The Zeitgeist, Jeff Rathke is joined by Jens Spahn, Federal Minister of Health. In recent months, Jens Spahn has been one of the principal faces of Germany as it grapples with COVID-19 at home and internationally.  He is someone keenly aware of the interaction between politics, economics, and public health. They discuss the interconnected public health measures that Germany is pursuing and how Germany as a federal system is managing the balance between federal decision-making and the responsibilities of the Länder.
---
Host
Jeff Rathke, President, AGI
Guest
Jens Spahn, Federal Minister of Health
---