Episode 20: Defender Europe 20: European Security and U.S. Commitments
Center for European Policy Analysis
A native of Quincy, Florida, Lieutenant General (Retired) Frederick Benjamin "Ben" Hodges graduated from the United States Military Academy in May 1980 and was commissioned in the Infantry.
After his first assignment as an Infantry Lieutenant in Germany, he commanded Infantry units at the Company, Battalion and Brigade levels as the 101st Airborne Division and in Operation IRAQI FREEDOM. He also served in an operational assignment as Director of Operations, Regional Command South, in Kandahar, Afghanistan.
Lieutenant General (Retired) Hodges has also served in a variety of Joint and Army Staff positions to include Tactic Instructor at the Infantry School; Chief of Plans, 2nd Infantry Division in Korea; Aide-de-Camp to the Supreme Allied Commander Europe; Army Congressional Liaison Officer; Task Force Senior Observer-Controller at the Joint Readiness Training Center, Fort Polk, LA: Coalition/Joint – 3 (CJ3) of Multi-National Corps-Iraq in Operation IRAQI FREEDOM; Chief of Staff, XVIII Airborne Corps at Fort Bragg; and Director of the Pakistan Afghanistan Coordination Cell on the Joint Staff, Chief of Legislative Liaison for the United States Army, and Commander, NATO Allied Land Command. His last Military assignment was as Commander, United States Army Europe from 2014 to 2017.
Lieutenant General (Retired) Hodges holds the Pershing Chair in Strategic Studies at the Center for European Policy Analysis.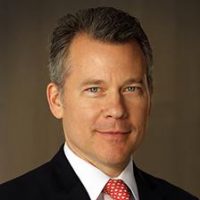 President of AGI
Jeffrey Rathke is the President of the American Institute for Contemporary German Studies at the Johns Hopkins University in Washington, DC.
Prior to joining AICGS, Jeff was a senior fellow and deputy director of the Europe Program at CSIS, where his work focused on transatlantic relations and U.S. security and defense policy. Jeff joined CSIS in 2015 from the State Department, after a 24-year career as a Foreign Service Officer, dedicated primarily to U.S. relations with Europe. He was director of the State Department Press Office from 2014 to 2015, briefing the State Department press corps and managing the Department's engagement with U.S. print and electronic media. Jeff led the political section of the U.S. Embassy in Kuala Lumpur from 2011 to 2014. Prior to that, he was deputy chief of staff to the NATO Secretary General in Brussels. He also served in Berlin as minister-counselor for political affairs (2006–2009), his second tour of duty in Germany. His Washington assignments have included deputy director of the Office of European Security and Political Affairs and duty officer in the White House Situation Room and State Department Operations Center.
Mr. Rathke was a Weinberg Fellow at Princeton University (2003–2004), winning the Master's in Public Policy Prize. He also served at U.S. Embassies in Dublin, Moscow, and Riga, which he helped open after the collapse of the Soviet Union. Mr. Rathke has been awarded national honors by Estonia, Latvia, and Lithuania, as well as several State Department awards. He holds an M.P.P. degree from Princeton University and B.A. and B.S. degrees from Cornell University. He speaks German, Russian, and Latvian.
__
---
Security threats, military spending, and concepts of burden-sharing have changed in the years following the end of the Cold War, and the transatlantic alliance has adapted to meet the new challenges. Now, as the NATO partners undertake "Defender Europe 20," the largest movement of U.S. troops and military vehicles to Europe in twenty-five years, Germany plays a key role in the ability to move forces across Europe. At the center of Europe, Germany's role as a logistical hub is a reminder of the need to think differently about what burden-sharing should entail; the alliance doesn't need German tanks, but rather German trains. Germany was the largest defense spender in the European Union in 2019, with a 38 percent increase over 2014 spending. How much further does Germany have to go in terms in capabilities and readiness?
On this episode of The Zeitgeist, AGI's Jeff Rathke talks with Lieutenant General (Retired) Ben Hodges, who commanded the U.S. Army Europe from 2014 to 2017. They discuss the importance of deterrence, and how NATO continues to respond to Russia's invasion and annexation of Crimea. They also discuss the NATO battlegroups and what stresses Germany's leadership role in Lithuania is placing on the Bundeswehr, as well as how Germany is responding.
---
Host
Jeff Rathke, President, AGI
Guest
Lieutenant General (Retired) Ben Hodges, Commander, United States Army Europe from 2014 to 2017 and Pershing Chair in Strategic Studies at the Center for European Policy Analysis