Statement on Rising Incidents of Anti-Semitism in Germany and the United States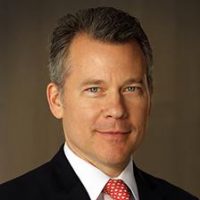 President of AGI
Jeffrey Rathke is the President of the American Institute for Contemporary German Studies at the Johns Hopkins University in Washington, DC.
Prior to joining AICGS, Jeff was a senior fellow and deputy director of the Europe Program at CSIS, where his work focused on transatlantic relations and U.S. security and defense policy. Jeff joined CSIS in 2015 from the State Department, after a 24-year career as a Foreign Service Officer, dedicated primarily to U.S. relations with Europe. He was director of the State Department Press Office from 2014 to 2015, briefing the State Department press corps and managing the Department's engagement with U.S. print and electronic media. Jeff led the political section of the U.S. Embassy in Kuala Lumpur from 2011 to 2014. Prior to that, he was deputy chief of staff to the NATO Secretary General in Brussels. He also served in Berlin as minister-counselor for political affairs (2006–2009), his second tour of duty in Germany. His Washington assignments have included deputy director of the Office of European Security and Political Affairs and duty officer in the White House Situation Room and State Department Operations Center.
Mr. Rathke was a Weinberg Fellow at Princeton University (2003–2004), winning the Master's in Public Policy Prize. He also served at U.S. Embassies in Dublin, Moscow, and Riga, which he helped open after the collapse of the Soviet Union. Mr. Rathke has been awarded national honors by Estonia, Latvia, and Lithuania, as well as several State Department awards. He holds an M.P.P. degree from Princeton University and B.A. and B.S. degrees from Cornell University. He speaks German, Russian, and Latvian.
__
Chairman, AGI Board of Trustees
The terrorist attack on Israel on October 7 shocked the world, a stunning, deliberate, and cooardinated act of violence that became the deadliest day for Jews since the end of the Holocaust. Hamas terrorists killed an estimated 1,200 people—many of them citizens of Germany and the United States—and took hundreds more back to the Gaza Strip as hostages. It was an attack on Israel's very right to exist. The governments and political leadership in the United States and Germany immediately condemned the attack, emphasized Israel's indisputable right to self-defense, and pledged to stand by Israel.
The United States and German governments also have expressed concerns and sought to minimize the suffering of the Palestinian civilian population in the Gaza Strip, where local authorities report that over 11,000 people have been killed, as Israel exercises its right of self-defense and responds to the Hamas attack. These concerns are shared by many non-governmental organizations and interested citizens who have freely demonstrated and expressed their views publicly.
Support for the Palestinian people is essential, as is opposition to anti-Muslim sentiment and actions. There should be no blurring of the line between supporting Palestinians and supporting a terrorist group, Hamas, that denies Israel's right to exist and that employs brutal violence against its people.
The Institute, as part of its mission to strengthen the German-American partnership, has had a focus since its founding on understanding the role of reconciliation in German foreign policy and the roots of anti-Semitism in contemporary Germany, as well as on fostering transatlantic efforts to promote the former and combat the latter. Germany and the United States have witnessed a startling upsurge in anti-Semitic incidents since October 7—increasing by 240 percent in Germany immediately after the attack and by over 300 percent in the United States. This sparks deep reflection and consternation in both countries, which are proud of their vibrant Jewish communities. In the case of Germany, the land where the genocide against the Jews was planned and perpetrated during the period of National Socialist rule, the flourishing of Jewish life in recent decades has been especially remarkable. Commendably, large numbers of people in the United States and Germany are stepping up publicly to oppose anti-Semitism. But it is still the case that Jewish communities in our countries are experiencing threats and violence, and many people feel that they now must hide that they are Jewish. Both countries must redouble their efforts to oppose anti-Semitism and the hatred and violence it spawns.
Martin Richenhagen
Chairman, AGI Board of Trustees
Jeff Rathke
President, AGI