The EU and Economic Security: What's in a Name?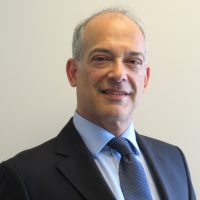 Vice President; Director, Geoeconomics Program
Peter S. Rashish, who counts over 25 years of experience counseling corporations, think tanks, foundations, and international organizations on transatlantic trade and economic strategy, is Vice President and Director of the Geoeconomics Program at AICGS. He also writes The Wider Atlantic blog.
Mr. Rashish has served as Vice President for Europe and Eurasia at the U.S. Chamber of Commerce, where he spearheaded the Chamber's advocacy ahead of the launch of the Transatlantic Trade and Investment Partnership. Previously, Mr. Rashish was a Senior Advisor for Europe at McLarty Associates, and has held positions as Executive Vice President of the European Institute, on the Paris-based staff of the International Energy Agency, and as a consultant to the World Bank, the German Marshall Fund of the United States, the Atlantic Council, the Bertelsmann Foundation, and the United Nations Conference on Trade and Development.
Mr. Rashish has testified on the euro zone and U.S.-European economic relations before the House Financial Services Subcommittee on International Monetary Policy and Trade and the House Foreign Affairs Subcommittee on Europe and Eurasia and has advised three U.S. presidential campaigns. He is a member of the Board of Directors of the Jean Monnet Institute in Paris and a Senior Advisor to the European Policy Centre in Brussels. His commentaries have been published in The New York Times, the Financial Times, The Wall Street Journal, Foreign Policy, and The National Interest, and he has appeared on PBS, CNBC, CNN, and NPR.
He earned a BA from Harvard College and an M.Phil. in international relations from Oxford University. He speaks French, German, Italian, and Spanish.
__
The European Commission, the EU's executive arm, released a proposal this week for a "European Economic Security Strategy." Its premise is that with "geopolitical tensions rising and global economic integration deeper than ever before, certain economic flows and activities can present a risk to our security."
That is an accurate description of what will be a key dynamic in the global economy over the next several years: the move by the United States, the European Union, Japan, and other "G7+" countries to find a new equilibrium in their international economic relations. One that tempers globalization as a driving force for prosperity through deeper ties among like-minded countries.
One remarkable aspect of the EU's new strategy is the emphasis it places on "bilateral and plurilateral cooperation instruments to be a nimbler actor where this is necessary for greater economic security." While it asserts that "even in an environment of strategic rivalry and economic competition, there is scope for international cooperation on common challenges and a need for clear rules guaranteeing fair and open trade," this bow to multilateralism comes after a much longer outline of how the EU is stepping up its work with selected partners. This evolution includes the U.S.-EU Trade and Technology Council (and a similar council with India), the G7, as well as outreach to developing economies through the Global Gateway that is in part a response to China's Belt and Road Initiative.
One remarkable aspect of the EU's new strategy is the emphasis it places on bilateral and plurilateral cooperation to advance its economic security.
Among the key elements of this proposed strategy—which will require the approval of the EU member states and the European Parliament—are existing measures like the anti-coercion instrument, the FDI Screening Regulation, and the European Chips Act whose focus is to deter aggressive economic behavior and maintain a resilient domestic industrial base. But as it aims to develop "as large a geo-economic toolbox as possible," the European Commission also proposes new ideas like a Cyber Resilience Act and both an outward investment screening mechanism and an updated export control framework to prevent the transfer of technologies important for EU security.
This strategy to empower the EU to respond to vulnerabilities from globalization would formalize and deepen several rhetorical commitments it has made in the U.S.-EU and G7 context this year. If implemented, it should strengthen the transatlantic and broader "Western" capacity to advance their conception of how an open, high-standard global economy should operate.
Still, it is worth considering if the term "economic security" is the right one. In this respect, it is noteworthy that in a recent speech on "Renewing American Economic Leadership," U.S. National Security Advisor Jake Sullivan did not speak of economic security but rather of the links between national security (a more straightforward notion) and international economic policy. One example: "And we're making progress in addressing outbound investments in sensitive technologies with a core national security nexus." And another: "We've implemented carefully tailored restrictions on the most advanced semiconductor technology exports to China…premised on straightforward national security concerns."
This is an important distinction, and one that reveals a challenge the EU faces as it seeks to be a global actor.
The European Union is an institution built on voluntary, rules-based cooperation among governments. And it does not have the full powers of a nation-state at its disposal since the 27 EU member states retain key responsibilities in foreign and defense policy. Given that reality, it is perhaps unsurprising that the EU has chosen a more soft-power narrative like economic security.
While the Commission has used economic security judiciously in its new strategy, others have abused this idea, which could once again become a cover for protectionist measures: special interests under the guise of the national interest. If economic security is here to stay, the transatlantic lexicon needs to be updated with a common—and reasonably narrow—definition of what it means. With its new strategy, the European Commission has made a helpful start.