Olaf Scholz: The Indispensable Element of a Sustainable China Strategy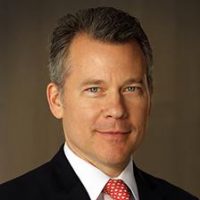 President of AGI
Jeffrey Rathke is the President of the American Institute for Contemporary German Studies at the Johns Hopkins University in Washington, DC.
Prior to joining AICGS, Jeff was a senior fellow and deputy director of the Europe Program at CSIS, where his work focused on transatlantic relations and U.S. security and defense policy. Jeff joined CSIS in 2015 from the State Department, after a 24-year career as a Foreign Service Officer, dedicated primarily to U.S. relations with Europe. He was director of the State Department Press Office from 2014 to 2015, briefing the State Department press corps and managing the Department's engagement with U.S. print and electronic media. Jeff led the political section of the U.S. Embassy in Kuala Lumpur from 2011 to 2014. Prior to that, he was deputy chief of staff to the NATO Secretary General in Brussels. He also served in Berlin as minister-counselor for political affairs (2006–2009), his second tour of duty in Germany. His Washington assignments have included deputy director of the Office of European Security and Political Affairs and duty officer in the White House Situation Room and State Department Operations Center.
Mr. Rathke was a Weinberg Fellow at Princeton University (2003–2004), winning the Master's in Public Policy Prize. He also served at U.S. Embassies in Dublin, Moscow, and Riga, which he helped open after the collapse of the Soviet Union. Mr. Rathke has been awarded national honors by Estonia, Latvia, and Lithuania, as well as several State Department awards. He holds an M.P.P. degree from Princeton University and B.A. and B.S. degrees from Cornell University. He speaks German, Russian, and Latvian.
__
German Chancellor Olaf Scholz travels to Washington on March 3, at a peak of transatlantic focus on supporting Ukraine in its fight against Russia's aggression. President Biden's bold visit to Kyiv in February reflects a broader emerging consensus among Western leaders to support Ukraine "as long as it takes," a position forcefully stated by Scholz among others at the Munich Security Conference. This was a welcome message of unity after recent public squabbling over military support. It is natural for President Biden's dialogue with the chancellor to focus on Ukraine and transatlantic security. As crucial as that is, Scholz and Biden should concentrate as well on a goal that is no less significant for American and German strategy: forging a common understanding on U.S. and European approaches to China. Washington cannot afford misalignment, which would hobble Biden's goals of out-competing China while managing relations with Beijing. Scholz is the key because Germany is just as indispensable in getting China policy right as it has been in the search for sustainable and effective ways to support Ukraine.
The recent transatlantic wrangle over delivering Leopard 2 tanks to Kyiv illustrates why. Long under pressure from Ukraine, central and eastern European allies, and a vocal portion of his own governing coalition, Scholz held out until he reached an agreement with Biden that would also involve the United States providing Kyiv its most advanced tank, the M1 Abrams. As National Security Advisor Jake Sullivan explained to ABC recently, this was a decision that Washington resisted because it did not make military or logistical sense—the Leopard 2 has a far larger user base of more than a dozen nations and a developed supply chain in comparison to the heavier, more complex Abrams that is not in service with any other European country. But Scholz had decided it was a political necessity for him to sustain the broad support of the German public and diffuse the risks he perceived by sharing them with Washington—a view he described to U.S. lawmakers in a January meeting during the World Economic Forum. Few in the United States security establishment shared Scholz's assessment of the risk and accepted the linkage, but Germany was the only country able to form the core of a Western tank consortium that could quickly address Ukraine's needs. When President Biden understood the Chancellor's position would not change, he decided to meet Scholz's political need and told the Pentagon to find a way to make it happen, which they did within a week. Scholz thus became the first ally to shift the U.S. position in a significant way on military support to Ukraine.
What does that mean for U.S.-German collaboration with regard to China? Washington and its leading Western partners share the fundamental assessment that policies toward Beijing must adapt to an era of competition and rivalry. But there is little consensus about the key elements of a revitalized strategy, how to structure the global economy after decades of neoliberalism, and more concretely what economic sacrifices America and its allies should be prepared to bear in order to advance their shared interests. Germany is the largest European economy, with trade valued in 2021 at 88 percent of GDP. Germany is the most exposed EU economy to China, its largest trading partner for seven years in a row, with 35-40 percent of German auto manufacturers' sales coming in the Chinese market. German leaders increasingly recognize the need to reduce the risks and increase economic resiliency where there are major supply-chain dependencies on a single country like China. But, fear that the United States will push for a more far-reaching decoupling is a major source of discord and suspicion in Germany and more generally in the EU, underscored this week by the first public hearings of the U.S. House of Representatives' newly created committee on China. The notion that Germany or the United States could effectively decouple their economies broadly from China may be chimerical: U.S. trade with China remains high, with $527 billion in imports in 2021, only slightly below the 2018 peak of $558 billion, despite the pandemic and the Trump administration's tariffs on imports from China. Both the United States and Europe remain heavily dependent on Chinese supply chains for everything from pharmaceutical inputs to rare earth minerals. The specter of an American-driven decoupling agenda nevertheless forms a significant constraint on actions by Germany and many others in Europe; diminishing this concern should be a priority for American policy.
Scholz is the key because Germany is just as indispensable in getting China policy right as it has been in the search for sustainable and effective ways to support Ukraine.
As with the tanks, in transatlantic China policy, there is no time to waste for the United States and Germany to identify key areas of agreement and what accommodations each side might consider. This will not mean identical policies on both sides of the Atlantic, and the United States should not set unrealizable objectives that imply Washington policing Germany's every commercial move—a posture that would be bound to yield frustration and suspicion. The different approaches in the United States and Europe to the interlinked fields of climate policy, economic growth policies, and security are an example. With the Inflation Reduction Act, the United States has embarked on a massive push to incentivize clean energy transition and the creation of supply chains less dependent on China—which has caused some friction with Europe because of protectionist elements favoring U.S.-based supply chains for electric vehicles. The European Union, for its part, intends to institute a Carbon Border Adjustment Mechanism to take account of the carbon-intensity of products imported into the EU so that foreign producers with lower environmental standards do not enjoy an unfair advantage. These initiatives share the goal of addressing climate change and promoting domestic production, but the United States and the EU go about them differently. The political challenge is to manage these differences rather than eliminate or resolve them.
Germany's principal contribution to a transatlantic China strategy would be economic and political, not military. Scholz might be seen by some in the United States as representing a business-as-usual approach. His government found a way late in 2022 to let Chinese investment in a terminal at the Hamburg port move forward, just before he traveled to Beijing—the first major Western visitor after Xi Jinping's election to a third term that broke the post-Mao two-term precedent for Chinese leaders. Scholz brought a business delegation with him, as former Chancellor Angela Merkel usually did on her frequent visits to China during her sixteen years in office, creating the impression that Germany still sees China first as an economic opportunity, downplaying its growing challenge to the international system.
But those threads of continuity increasingly are offset by new steps. Just weeks after allowing the port deal to go through, Germany blocked the Chinese acquisition of Elmos Semiconductor SE's wafer facility. This fall, Economics Minister and Vice Chancellor Robert Habeck announced that the government would change the parameters for foreign investment guarantees in order to incentivize German companies to diversify away from China. And Scholz's Social Democratic Party (SPD) has recently released a position paper calling for Germany to prioritize resilience, de-risk, and minimize dependencies on China. The government, meanwhile, is writing a national security strategy and a China strategy that will incorporate these tendencies and provide a policy framework that will guide Berlin for years to come.
A focus on the defining strategic issues related to China will minimize bilateral frictions between friends and raise the likelihood of prevailing in the systemic competition of this century.
The U.S.-German dialogue on China needs a robust Congressional dimension as well. Chancellor Scholz demonstrated the value of this one year ago, engaging with leading Senators on the Nord Stream 2 pipeline issue just weeks before Russia's invasion of Ukraine. This deepened mutual understanding and allowed the transatlantic community to focus on ways to jointly support Kyiv and punish Russian aggression, rather than pursuing recriminations about German energy policy. The rapid freezing of Nord Stream 2 just before the Russian invasion and the dramatic reorientation of German energy policy in the succeeding months, which eliminated all Russian coal, oil, and gas imports to Germany faster than had seemed possible, is an indication of the strategically significant measures the transatlantic community remains capable of when based on a shared political understanding. There are existing, more technocratic efforts such as the U.S.-EU Trade and Technology Council, but they are no substitute for direct dialogue between the president and the head of government of one of America's most important partners.
One of Scholz's priorities is to avoid bloc rhetoric, in part because of the corrosive effects on German political and public support. It is also increasingly important to appeal to skeptical states in the Global South who resist being pressured into choosing sides. While resilience and redundancy in supply chains are an important element of a long-term transatlantic approach, an overemphasis on "friendshoring" in democratic countries would alienate parts of the Global South, which are actively seeking more investment and finding willing partners in China. The European Union's active negotiations on expanding the EU's network of free trade agreements is a practical asset for the transatlantic partnership at a time when the U.S. trade agenda is absent or turning inward.
President Biden has an opportunity to begin setting a fundamental direction on transatlantic China policy. This will require understanding Scholz's perceived limits in reorienting Berlin's approach to Beijing and reaching agreement that their shared strategic priority is to reduce dependencies in critical security areas and in advanced technologies that will define the shape of their societies for decades to come. These are not only transatlantic issues, but the world's largest trading bloc (EU) and the largest economy (U.S.) must prioritize at the highest levels how they will assess risk and manage it where it represents a vulnerability for their common interest. President Biden's approach of repairing U.S. relationships with its closest partners has borne fruit in the strong solidarity of Germany and Europe with Ukraine. A similar focus on the defining strategic issues related to China will minimize bilateral frictions between friends and raise the likelihood of prevailing in the systemic competition of this century.