Guido Goldman: Transatlantic Bridge-Builder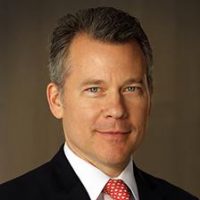 President of AGI
Jeffrey Rathke is the President of the American Institute for Contemporary German Studies at the Johns Hopkins University in Washington, DC.
Prior to joining AICGS, Jeff was a senior fellow and deputy director of the Europe Program at CSIS, where his work focused on transatlantic relations and U.S. security and defense policy. Jeff joined CSIS in 2015 from the State Department, after a 24-year career as a Foreign Service Officer, dedicated primarily to U.S. relations with Europe. He was director of the State Department Press Office from 2014 to 2015, briefing the State Department press corps and managing the Department's engagement with U.S. print and electronic media. Jeff led the political section of the U.S. Embassy in Kuala Lumpur from 2011 to 2014. Prior to that, he was deputy chief of staff to the NATO Secretary General in Brussels. He also served in Berlin as minister-counselor for political affairs (2006–2009), his second tour of duty in Germany. His Washington assignments have included deputy director of the Office of European Security and Political Affairs and duty officer in the White House Situation Room and State Department Operations Center.
Mr. Rathke was a Weinberg Fellow at Princeton University (2003–2004), winning the Master's in Public Policy Prize. He also served at U.S. Embassies in Dublin, Moscow, and Riga, which he helped open after the collapse of the Soviet Union. Mr. Rathke has been awarded national honors by Estonia, Latvia, and Lithuania, as well as several State Department awards. He holds an M.P.P. degree from Princeton University and B.A. and B.S. degrees from Cornell University. He speaks German, Russian, and Latvian.
__
This week began sadly with the news that Guido Goldman passed away at age 83. Guido was known to so many in the transatlantic community as an institution-builder: at Harvard's Center for European Studies, as founding president of the German Marshall Fund, and as my predecessor Jack Janes describes, as one of the crucial figures behind the creation of AGI alongside Steve Muller and Gerry Livingston, and a leading member of our Board of Trustees from 1983 to 1998.
Guido was a visionary who recognized the necessity of strong relations between the United States and Europe, and especially with Germany, a country his parents had been forced to flee after Hitler's seizure of power and the establishment of the National Socialist regime. Guido's decades-long efforts wove a transatlantic fabric that transcends state-to-state interactions and has put relations between societies on both sides of the Atlantic on a broader and firmer footing. His death leaves a hole in that fabric, but it is one that generations imbued with his spirit and shaped by his institutions will repair.
Unlike many who have paid tribute to Guido's life, I only had the pleasure to know Guido for a relatively short time. I never ceased to marvel at his generosity, commitment, and the human touch brought to promoting the causes so close to his heart.
It is a small condolence that AGI has been able over the past year to lead a project that will celebrate his legacy—a biography of Guido authored by Martin Klingst (formerly of Die Zeit), with the support of the German Foreign Office. It will be published in German early next year by Herder under the title Amerikas Mr. Germany, and an English translation will follow soon thereafter. We are honored to be part of this effort, which will help remind readers how much those who benefit from the transatlantic relationship owe to Guido.