Jeff Rathke in Foreign Policy on Nord Stream 2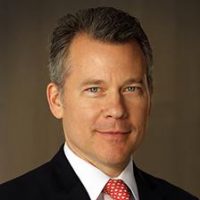 President of AGI
Jeffrey Rathke is the President of the American Institute for Contemporary German Studies at the Johns Hopkins University in Washington, DC.
Prior to joining AICGS, Jeff was a senior fellow and deputy director of the Europe Program at CSIS, where his work focused on transatlantic relations and U.S. security and defense policy. Jeff joined CSIS in 2015 from the State Department, after a 24-year career as a Foreign Service Officer, dedicated primarily to U.S. relations with Europe. He was director of the State Department Press Office from 2014 to 2015, briefing the State Department press corps and managing the Department's engagement with U.S. print and electronic media. Jeff led the political section of the U.S. Embassy in Kuala Lumpur from 2011 to 2014. Prior to that, he was deputy chief of staff to the NATO Secretary General in Brussels. He also served in Berlin as minister-counselor for political affairs (2006–2009), his second tour of duty in Germany. His Washington assignments have included deputy director of the Office of European Security and Political Affairs and duty officer in the White House Situation Room and State Department Operations Center.
Mr. Rathke was a Weinberg Fellow at Princeton University (2003–2004), winning the Master's in Public Policy Prize. He also served at U.S. Embassies in Dublin, Moscow, and Riga, which he helped open after the collapse of the Soviet Union. Mr. Rathke has been awarded national honors by Estonia, Latvia, and Lithuania, as well as several State Department awards. He holds an M.P.P. degree from Princeton University and B.A. and B.S. degrees from Cornell University. He speaks German, Russian, and Latvian.
__
Research Intern
Max Hammer was a research intern at AICGS for the summer of 2019. He conducts research for current projects and for resident fellows, helps organize and document events, manages the database, and operates the front desk at AICGS.
Currently, Mr. Hammer is a first-year student at the London School of Economics in the UK, where he is pursuing a bachelor's degree in Politics and International Relations. His research interests include international human rights, populism and political radicalism in the European Union, and the role of China in international politics.
At the London School of Economics, Mr. Hammer is heavily involved with the university chapter of Amnesty International and edits a human rights journal documenting international human rights abuses. He has previously interned at the German news agency ARD's foreign office in Washington, DC.
In a recent article in Foreign Policy, AGI President Jeff Rathke writes, "congressional action to halt Nord Stream 2 carries risks of weakening European solidarity against Russia and could help unravel the sanctions architecture imposed jointly by the United States and the European Union since 2014. The United States could better achieve its desired ends for the pipeline through a more cooperative policy—one that leverages Germany's influence to strengthen Ukraine and to complicate Russia's strategy of using energy as a weapon."
---
Maximum Pressure on Germany Is a Big Mistake by Jeff Rathke and Max Hammer was originally published in Foreign Policy on September 2, 2019.