Episode 07: Muslim Women's Experiences in Germany and the U.S.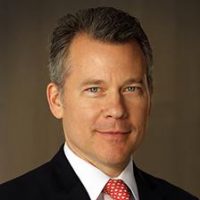 President of AGI
Jeffrey Rathke is the President of the American Institute for Contemporary German Studies at the Johns Hopkins University in Washington, DC.
Prior to joining AICGS, Jeff was a senior fellow and deputy director of the Europe Program at CSIS, where his work focused on transatlantic relations and U.S. security and defense policy. Jeff joined CSIS in 2015 from the State Department, after a 24-year career as a Foreign Service Officer, dedicated primarily to U.S. relations with Europe. He was director of the State Department Press Office from 2014 to 2015, briefing the State Department press corps and managing the Department's engagement with U.S. print and electronic media. Jeff led the political section of the U.S. Embassy in Kuala Lumpur from 2011 to 2014. Prior to that, he was deputy chief of staff to the NATO Secretary General in Brussels. He also served in Berlin as minister-counselor for political affairs (2006–2009), his second tour of duty in Germany. His Washington assignments have included deputy director of the Office of European Security and Political Affairs and duty officer in the White House Situation Room and State Department Operations Center.
Mr. Rathke was a Weinberg Fellow at Princeton University (2003–2004), winning the Master's in Public Policy Prize. He also served at U.S. Embassies in Dublin, Moscow, and Riga, which he helped open after the collapse of the Soviet Union. Mr. Rathke has been awarded national honors by Estonia, Latvia, and Lithuania, as well as several State Department awards. He holds an M.P.P. degree from Princeton University and B.A. and B.S. degrees from Cornell University. He speaks German, Russian, and Latvian.
__
Senior Fellow
Dr. Lily Gardner Feldman is a Senior Fellow at AICGS. She previously served as the Harry & Helen Gray Senior Fellow at AICGS and directed the Institute's Society, Culture & Politics Program. She has a PhD in Political Science from MIT.
From 1978 until 1991, Dr. Gardner Feldman was a professor of political science (tenured) at Tufts University in Boston. She was also a Research Associate at Harvard University's Center for European Studies, where she chaired the German Study Group and edited German Politics and Society; and a Research Fellow at Harvard University's Center for International Affairs, where she chaired the Seminar on the European Community and undertook research in the University Consortium for Research on North America. From 1990 until 1995, Dr. Gardner Feldman was the first Research Director of AICGS and its Co-director in 1995. From 1995 until 1999, she was a Senior Scholar in Residence at the BMW Center for German and European Studies at Georgetown University. She returned to Johns Hopkins University in 1999.
Dr. Gardner Feldman has published widely in the U.S. and Europe on German foreign policy, German-Jewish relations, international reconciliation, non-state entities as foreign policy players, and the EU as an international actor. Her latest publications are: Germany's Foreign Policy of Reconciliation: From Enmity to Amity, 2014; "Die Bedeutung zivilgesellschaftlicher und staatlicher Institutionen: Zur Vielfalt und Komplexität von Versöhnung," in Corine Defrance and Ulrich Pfeil, eds., Verständigung und Versöhnung, 2016; and "The Limits and Opportunities of Reconciliation with West Germany During the Cold War: A Comparative Analysis of France, Israel, Poland and Czechoslovakia" in Hideki Kan, ed., The Transformation of the Cold War and the History Problem, 2017 (in Japanese). Her work on Germany's foreign policy of reconciliation has led to lecture tours in Japan and South Korea.
German Islam Academy
Pinar Cetin is the Director of the German Islam Academy (Deutsche Islam Akademie), which she founded in 2016 along with fellow members of the Muslim community in Berlin. From 2003 to 2016, Ms. Cetin was active in the Turkish Islamic Association for Religious Affairs in Germany (DITIB). Ms. Cetin studied Political Science and Turkish Studies at the Freie Universität Berlin. Throughout her career, Ms. Cetin has worked in a variety of projects, including as Dialogue Manager between Muslim and non-Muslim students and inter-religious groups. She conceptualized different workshops and worked on methods to facilitate community-based exchange and mutual understanding. Ms. Cetin was engaged in Jewish-Christian-Muslim encounters and helped develop educational programs at schools aimed at preventing prejudice and hate-based discrimination.
---
Muslims have lived in Germany in significant numbers for decades; in 1961 the Federal Republic concluded an agreement with Turkey that would ultimately bring nearly a million Turkish workers to Germany by 1973.  The relationship of these migrants to broader German society changed—many put down roots, formed families, and have been in Germany for three or four generations.  Today, 4 million Muslims live in Germany.
The then-president of Germany, CDU politician Christian Wulff, addressed this reality in 2010, when he reflected on the country's growing diversity. Yet this broader concept of belonging in German society came under criticism after the migration crisis that peaked in 2015, and after terrorist attacks in Germany and elsewhere in Europe that were connected to Islamic extremism.
What is the state of interfaith dialogue in Germany, how successful has the integration of migrants been, and what challenges remain for Muslims in German society? In this episode of The Zeitgeist, Pinar Cetin, Director of the German Islam Academy, joins AGI President Jeff Rathke and Senior Fellow Dr. Lily Gardner Feldman to discuss similarities and differences in the role of Muslim women in Germany and the United States.
---
Host
Jeff Rathke, President, AGI
Guests
Pinar Cetin, Director, German Islam Academy (Deutsche Islam Akademie e.V.), Berlin
Lily Gardner Feldman, Senior Fellow, AGI
---
---
Support for this episode is provided in part by the AGI Society, Culture & Politics Program.