Episode 03: Burdensharing within NATO: Do more, spend more?
Heinrich Brauss was NATO's Assistant Secretary General for Defence Policy and Planning in 2013- 2018, having joined the International Staff of the North Atlantic Treaty Organisation (NATO) in September 2007 as Deputy Assistant Secretary General for Policy and Planning. Prior to joining NATO he served at the EU, first in the European Union Military Staff (EUMS) as Assistant Chief of Staff, Operations & Exercises Division and then as the Director of the Civilian/Military Cell and the EU Operations Centre. In 2001 he assumed command of an Armoured Brigade in Potsdam/Germany. He also deployed for operations in Bosnia and Herzegovina, where he served as Chief of Staff in the Headquarters of the Stabilisation Force (SFOR). Other appointments included, inter alia, Chief of Staff of a Mechanised Infantry Brigade and Commander of an Armoured Artillery Battalion. He first gained international experience as a member of the Staff of the German Military Representative in the Military Committee of NATO and EU/WEU in Brussels, where his responsibilities covered NATO's strategy, enlargement, command and force planning. He also served as Branch Chief in the Planning and Advisory Staff to the former German Minister of Defence, Volker Rühe, in Bonn/Germany. He retired on 31 July 2018 after 46 years of service in the German Armed Forces. He holds the rank of Lieutenant General (retd.) in the German Armed Forces.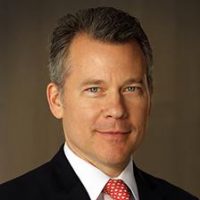 President of AGI
Jeffrey Rathke is the President of the American Institute for Contemporary German Studies at the Johns Hopkins University in Washington, DC.
Prior to joining AICGS, Jeff was a senior fellow and deputy director of the Europe Program at CSIS, where his work focused on transatlantic relations and U.S. security and defense policy. Jeff joined CSIS in 2015 from the State Department, after a 24-year career as a Foreign Service Officer, dedicated primarily to U.S. relations with Europe. He was director of the State Department Press Office from 2014 to 2015, briefing the State Department press corps and managing the Department's engagement with U.S. print and electronic media. Jeff led the political section of the U.S. Embassy in Kuala Lumpur from 2011 to 2014. Prior to that, he was deputy chief of staff to the NATO Secretary General in Brussels. He also served in Berlin as minister-counselor for political affairs (2006–2009), his second tour of duty in Germany. His Washington assignments have included deputy director of the Office of European Security and Political Affairs and duty officer in the White House Situation Room and State Department Operations Center.
Mr. Rathke was a Weinberg Fellow at Princeton University (2003–2004), winning the Master's in Public Policy Prize. He also served at U.S. Embassies in Dublin, Moscow, and Riga, which he helped open after the collapse of the Soviet Union. Mr. Rathke has been awarded national honors by Estonia, Latvia, and Lithuania, as well as several State Department awards. He holds an M.P.P. degree from Princeton University and B.A. and B.S. degrees from Cornell University. He speaks German, Russian, and Latvian.
__
---
No relationship is without its difficulties and disagreements, not even between societies as close as the U.S. and Europe.  For almost as long as NATO has existed, Washington has wanted its European allies to contribute more to the common defense.
The European Union is playing a bigger role in fostering European defense investment and creating the capacity for the EU to take military action in crisis zones, such as the Mediterranean, Mali, or the Horn of Africa.  Some European leaders even call for a "European army," as French president Emmanuel Macron did in November 2018.  President Trump saw that as an insult to the U.S. and to NATO.  German chancellor Angela Merkel, in contrast, in mid-November gave Macron's idea an endorsement in principle, while acknowledging that it was far off.
In this episode of The Zeitgeist, AGI President Jeff Rathke talks with NATO expert and retired German Lieutenant General Heiner Brauss about the current dispute on NATO and its implications for the alliance and the transatlantic relationship. How far has NATO come on burdensharing?  What is the role of the European Union, how does NATO cooperate with the EU, and is there a danger that a growing European role would undermine NATO?
---
Host
Jeff Rathke, President, AGI
Guest
Heiner Brauss, former Assistant Secretary General for Defense Plans at NATO
---
Subscribe on iTunes, Spotify, Google Play, Tune In, and Stitcher.
---
Support for this episode is provided in part by the Steven Muller New Initiatives Fund.