The SOTEU and Transatlantic Economic Relations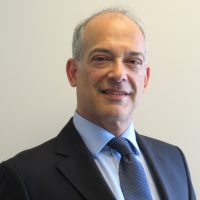 Vice President; Director, Geoeconomics Program
Peter S. Rashish, who counts over 25 years of experience counseling corporations, think tanks, foundations, and international organizations on transatlantic trade and economic strategy, is Vice President and Director of the Geoeconomics Program at AICGS. He also writes The Wider Atlantic blog.
Mr. Rashish has served as Vice President for Europe and Eurasia at the U.S. Chamber of Commerce, where he spearheaded the Chamber's advocacy ahead of the launch of the Transatlantic Trade and Investment Partnership. Previously, Mr. Rashish was a Senior Advisor for Europe at McLarty Associates, and has held positions as Executive Vice President of the European Institute, on the Paris-based staff of the International Energy Agency, and as a consultant to the World Bank, the German Marshall Fund of the United States, the Atlantic Council, the Bertelsmann Foundation, and the United Nations Conference on Trade and Development.
Mr. Rashish has testified on the euro zone and U.S.-European economic relations before the House Financial Services Subcommittee on International Monetary Policy and Trade and the House Foreign Affairs Subcommittee on Europe and Eurasia and has advised three U.S. presidential campaigns. He is a member of the Board of Directors of the Jean Monnet Institute in Paris and a Senior Advisor to the European Policy Centre in Brussels. His commentaries have been published in The New York Times, the Financial Times, The Wall Street Journal, Foreign Policy, and The National Interest, and he has appeared on PBS, CNBC, CNN, and NPR.
He earned a BA from Harvard College and an M.Phil. in international relations from Oxford University. He speaks French, German, Italian, and Spanish.
__
European Commission President Ursula von der Leyen gave her annual State of the European Union speech this week in Strasbourg, the official seat of the European Parliament. With the title "Answering the Call of History," this year's SOTEU was von der Leyen's last before Europeans go to the polls next June to elect a new parliament and indirectly a new European Commission.
Von der Leyen, a German on the more progressive wing of her center-right Christian Democratic Union, would probably like to serve a second term, and given Europe's electoral map, there is a decent chance that she will be able to do so. That means her speech was not only a highlight reel of the accomplishments since 2019 of her "Geopolitical Commission"—one where internal and external actions are better aligned—but also potentially a preview of the EU's direction over the coming years.
In this respect, the speech was noteworthy for the way it was able to both reinforce the transatlantic relationship and take an assertive position toward China without relying on a divisive narrative of great power competition in either case. Instead, von der Leyen chose a framing that links fairness and greenness as key driving factors for the EU's geoeconomic alignment.
One of the critiques that has emerged about von der Leyen's leadership at the European Commission has been that she is somehow too concerned about maintaining close relations with the Biden administration to defend the EU's role in the world. The French government in particular has been pushing the idea of "strategic autonomy" that emphasizes the EU's ability when needed to act independently of both the United States and China. While a stronger EU—even one that may on occasion take a different line from Washington—is in the U.S. interest, it is also true that there is no zero-sum dynamic between advancing the EU's objectives and cultivating a strong transatlantic relationship. Indeed, von der Leyen has displayed considerable agility in pursuing EU and broader U.S.-EU interests simultaneously.
Von der Leyen chose a framing that links fairness and greenness as key driving factors for the EU's geoeconomic alignment.
For what it's worth, von der Leyen only mentioned the United States twice in passing in her speech: once as an example of dialogue between the public and private sectors on artificial intelligence, and another time as one of several countries that have adopted the Commission's "de-risking" approach to asymmetric economic dependencies. More substantively, she linked two key notions that are emerging as a transatlantic framework for thinking about how to reorganize international economic relations: fairness and greenness.
On the one hand, she said that "it is an economic and national security imperative to preserve a European edge on critical and emerging technologies," and that "China's export restrictions on gallium and germanium…are essential for goods like semiconductors and solar panels."
At the same time, she asserted that "fairness in the global economy is so important—because it affects lives and livelihoods" and that "global markets are now flooded with cheaper Chinese electric cars. And their price is kept artificially low by huge state subsidies. This is distorting our market."
By underlining the challenge to pursuing the green transition presented by China's disruptive economic policies, von der Leyen has helped bolster the premise of the transatlantic negotiation currently underway on a Global Agreement on Sustainable Steel and Aluminum (GASSA) that is supposed to conclude in October. These talks aim to achieve a common U.S.-EU approach to imported metals that are both unfairly subsidized and produced in a carbon-intensive manner, something that would in particular push back against Chinese output.
While differences remain between the two sides, making it likely that the talks will be extended, the basic notion that trade policy no longer has the luxury to silo the issues of predatory economic practices and climate protection is a sound one. In her State of the European Union address, von der Leyen has helped to drive this conviction forward.