A New Approach to Europe?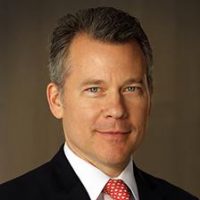 President of AGI
Jeffrey Rathke is the President of the American Institute for Contemporary German Studies at the Johns Hopkins University in Washington, DC.
Prior to joining AICGS, Jeff was a senior fellow and deputy director of the Europe Program at CSIS, where his work focused on transatlantic relations and U.S. security and defense policy. Jeff joined CSIS in 2015 from the State Department, after a 24-year career as a Foreign Service Officer, dedicated primarily to U.S. relations with Europe. He was director of the State Department Press Office from 2014 to 2015, briefing the State Department press corps and managing the Department's engagement with U.S. print and electronic media. Jeff led the political section of the U.S. Embassy in Kuala Lumpur from 2011 to 2014. Prior to that, he was deputy chief of staff to the NATO Secretary General in Brussels. He also served in Berlin as minister-counselor for political affairs (2006–2009), his second tour of duty in Germany. His Washington assignments have included deputy director of the Office of European Security and Political Affairs and duty officer in the White House Situation Room and State Department Operations Center.
Mr. Rathke was a Weinberg Fellow at Princeton University (2003–2004), winning the Master's in Public Policy Prize. He also served at U.S. Embassies in Dublin, Moscow, and Riga, which he helped open after the collapse of the Soviet Union. Mr. Rathke has been awarded national honors by Estonia, Latvia, and Lithuania, as well as several State Department awards. He holds an M.P.P. degree from Princeton University and B.A. and B.S. degrees from Cornell University. He speaks German, Russian, and Latvian.
__
November 1, 2018
European countries and institutions like NATO and the European Union are our partners of first resort. And it is clear that the United States benefits from and should seek partnership with Europe, unless we choose to deliberately do things alone, which is a choice. Now, getting to the policy differences that we have with some of our European friends and partners, those could be reasonably be raised as an objection. The Nord Stream II gas pipeline is one example. But I believe that an effective foreign policy for the United States is one that seeks to establish priorities that are achievable within the resources that we have available to us.

And if we look at the world through a lens of great power competition, as I believe this administration does, in which there are five crucial challenges – Russia, China, North Korea, Iran, and international terrorism – U.S. success in meeting any of those challenges will be greatly enhanced by partnership with Europe. Economically, it is hard to see the European Union as a greater challenge than China, for example, and to portray the European Union as a foe is, frankly, absurd. The United States and the EU together account for 46 percent of global GDP. Our influence is enormous together on global economic issues. Alone, the United States is 24 percent of global GDP, and necessarily wields less influence in trying to shape the future of the global economy than we would in partnership with Europe.
– Jeff Rathke, AGI President
---
At the Helsinki Commission briefing A NEW APPROACH TO EUROPE? U.S. Interests, Nationalist Movements, and the European Union, distinguished experts on U.S.-European relations examined the historical context of the relationship and asked whether European integration remains in the U.S. national interest, and whether populist movements in Europe should be considered a threat or an opportunity.
---